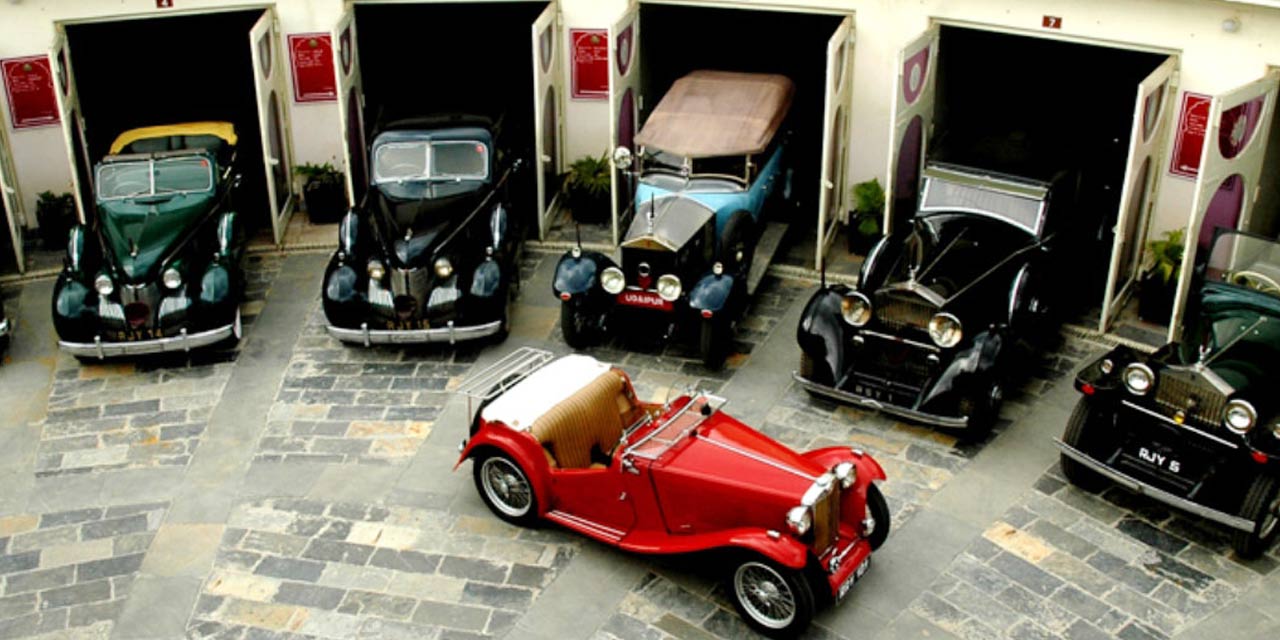 Vintage Car Museum Udaipur Entry Fee
400 per person for Adults
250 per person for Children
Vintage Car Museum Udaipur Phone
---
Rating:
| 4/5 stars
Based on total 58 reviews
Vintage Car Museum Udaipur Address: Gulab Bagh Road, Brahmpuri, Udaipur, Rajasthan, 313001, India
---
The luxury and grandiose lived and managed by the royal families of Udaipur is worth noticing. As a non-royalty, every other individual wishes to peek into the lifestyle of royalty. Adorned with explicit beauty and history, Udaipur is the storehouse of several items of historical significance.
Out of many, one of the most exciting places to visit is the Vintage and Classic Car Museum. The museum showcases some of the most exquisite collection of royal antique cars which make it a heritage site, which is worth exploring. Other than the art collectors, historians and royalty explorer, the Vintage and Classic Car Museum is the best vacation spot for both kids and adults.
If you have a knack for understanding and experience the royal lifestyle, Udaipur is the best place for you. Be it the elite Rajasthani lifestyle, authentic Rajasthani food, or the stunning lakes; the city has it all. Every aspect of this city is rich in Rajputana history and culture. To get a deeper understanding of Udaipur, you can reach Udaipur Tourism, a division of Holidays DNA, offering a fantastic and thrilling experience.
Location of Vintage and Classic Car Museum
Vintage and Classic Car Museum can be found on the Gulab Bagh road. There are two essential landmarks nearby - the Garden hotel and the Gulab Bagh Zoo. Gulab Bagh Zoo not only serves as a landmark but is also another fun place to visit. The museum is at a 10 minutes walking distance along the Lake Palace Road in the east direction.
Architecture of the Vintage and Classic Car Museum
Vintage and Classic Car Museum is home to 20 antique cars, which includes four classic Rolls-Royce, one MG-TC convertible, two 1939 Cadillacs, one Ford-A Convertible, one 1936 Vauxhall-12, rare models of Mercedes and some of the solar operated rickshaws and many other vehicles.
The spectacular collection of vehicles is housed in the former Mewar State Motor Garage which also serves as a museum site. There is a semi-circular motor garage whose forecourt is enclosed within a much larger courtyard. There is also a Shell Petrol pump located on this property, but it is believed that the condition of the petrol pump is unstable. You will be amazed to find that the vehicles are preserved wonderfully. Vehicles dating late 1900 are still kept speck free.
Image Gallery of Vintage Car Museum Udaipur
History of Vintage and Classic Car Museum
Inaugurated on 15th February 2000 by Lord Montagu of Beaulieu, Vintage and Classic Car Museum is owned by Rana Shri Arvind Singh Ji Mewar. The museum is the official property of the HRH group- Garden Hotel and restaurant. Lord Montagu of Beaulieu, was the founder of the National Motor Museum in England.
Entry fees and timings of Vintage and Classic Car Museum
The Vintage and Classic Car Museum opens at 9 AM and closes at 9 PM.
The price of the ticket is Rs. 250 for adults and Rs. 150 for children.
Best time to visit the Vintage and Classic Car Museum
There is no fixed time to visit any museum; museums are always a protected treasure of knowledge.So, the best time to explore and indulge in knowledgeable facts stored in the Vintage and Classic Car Museum is between October and March.
Things to do at Vintage and Classic Car Museum
· An exclusive place for every car lover on the globe, Vintage and Classic Car Museum is a heaven's delight. The museum gives a brief insight into the luxurious life of members of the royal family. There is a Shell Petrol Pump and a small elegant café to complete the whole sightseeing experience.
· If it is your lucky day, then you can spot a member of the royal family driving one of these vintage cars around.
· Along with the museum ticket, you can purchase a meal ticket and take pleasure of authentic Rajasthani vegetarian thali.
How to reach the Vintage Car Museum
The museum is located close to many significant tourist spots in the Udaipur city, making it easily accessible via three modes of transportation- Airways, railways, and roadways.
· Airport: The Maharana Pratap Airport is located at a distance of 20km from the Vintage and Classic Car Museum. This 20 km distance can be covered via private cab or taxi.
· Railway station: The Udaipur Railway Station is situated at a distance of 1.5 Km away from the museum. You can take any local public transport to reach the museum in no time.
· Public transport- Udaipur Bus depot (Udiapole) is just 1 Km away from the Vintage and Classic Car Museum. The best way to reach Udaipur is by taking the government-run buses by Gujarat, Madhya Pradesh, Rajasthan, and Uttar Pradesh transport authority. You can also take pleasure of a road trip by using NH8.
Finding an ideal and affordable cab or taxi can be troublesome in a new city. It is best to refer to the list of top car rental companies in Udaipur curated by Udaipur Tourism. You can enjoy sightseeing places in Udaipur in a hassle-free manner.
Places to visit near Vintage and Classic Car Museum
You can find several tourist spots nearby such as the Lake Palace, Saheliyon ki Bari, City Palace, and Lake Pichola.
· Lake Palace, also known as Jag Niwas, is one of the most gorgeous and famous Palace nearby.
· Situated on the banks of Lake Pichola, City Palace is yet another palace offering exquisite beauty.
· Saheliyon ki Bari also called the Garden of Maidens, is a vast garden designed for the Queen of Rana Sangha and his maidens.
· On the stunning bank of Lake Pichola, you can take a quick boat ride and explore the surroundings.
Interesting facts about the Vintage and Classic Car Museum
· You will be amazed to know that the elite 1934 Rolls Royce was used in a James Bond Hollywood flick named Octopussy.
· In 1961, one of the two Cadillac convertibles was used to escort the British Queen Elizabeth to the airport.
· In the year 2008, the 1924 Rolls Royce 20H.P showcased in the museum, was awarded the title of 'Best of Class Category, Vintage Classic in the Cartier Travel with Style Concours.'
Things to ensure before visiting the Vintage and Classic Car Museum
· Please note that a selected number of cars are available for public access. You cannot touch every vehicle
displayed in the museum. This is done to preserve the vehicles and for security reasons as well.
· Please carry your sunscreens, lotions, and sunglasses to escape the scorching heat of the sun during summer.
· Also take your water bottle to keep yourself hydrated.
· Do not forget to carry your camera to capture the beautiful cars of old times.
The grandeur of the royal families of Udaipur is pictured in their lifestyle of old and current times. Vintage and Classic Car Museum is only one aspect of that grandiose lifestyle. To find out more about the luxurious and exclusive life of the Mewar family, take a complete tour of Udaipur City. You can take advantage of personalized All-inclusive Udaipur tour packages offered by Udaipur Tourism. These packages are designed keeping the needs and requirements of our traveler guests. To get brief information about these packages, you can reach us by filling the Contact Us form.
Location Map for Vintage Car Museum Udaipur