Udaipur, surrounded by greenery of Aravalli Hills and dotted with serene waters of lakes and grand palaces, is a destination that should be on every traveller's wish list. Situated in the state of Rajasthan, Udaipur relives the grandeur and glory of bygone eras as well as offer the comfort and facilities of modernity.
This city of lakes, Udaipur prides itself with unrivaled combination of various palaces and havelis. Whether you are visiting for a day or for a week, the city suits every type of holiday plans.
However to explore this historical city of Udaipur, you need to plan your day outing in such a way that you include all the prominent tourist attractions and reach them on time. Opting for a 1 day Udaipur Darshan tour package will allow you to have a hassle free travel.
You can choose from the extensive list of 1 day Udaipur tour packages by private cab that we have designed along with the leading cab operators in Udaipur. We have carefully chosen varied range of 1 day Udaipur darshan packages, suiting varied kinds of needs and preferences. Through these packages you can explore this wonderful city with comfort.
If you wish to travel at your own pace instead of following a fixed itinerary, you can also hire a taxi from the listed top car rental companies in Udaipur and plan your sightseeing as per your time and interest.
List of the places to visit through 1 Day Udaipur Darshan Packages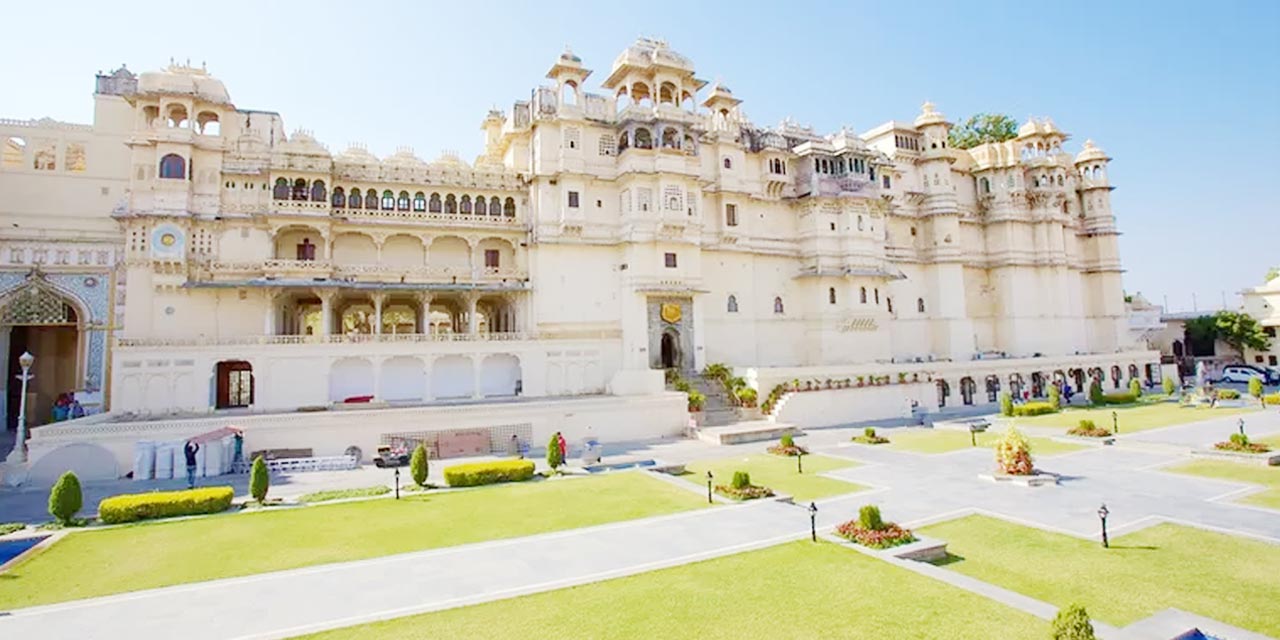 Overlooking the Lake Pichola, Udaipur City palace is a magnificent palace complex consisting of many spellbinding structures including four major palaces, various minor palaces along with a museum which displays a varied and rare collection of artefacts.
Udaipur Darshan cannot be complete without a visit to City Palace. Built in the style of Rajasthani architecture, the city palace presents a breath-taking site which has been created with the help and contributions of many Mewar Kings.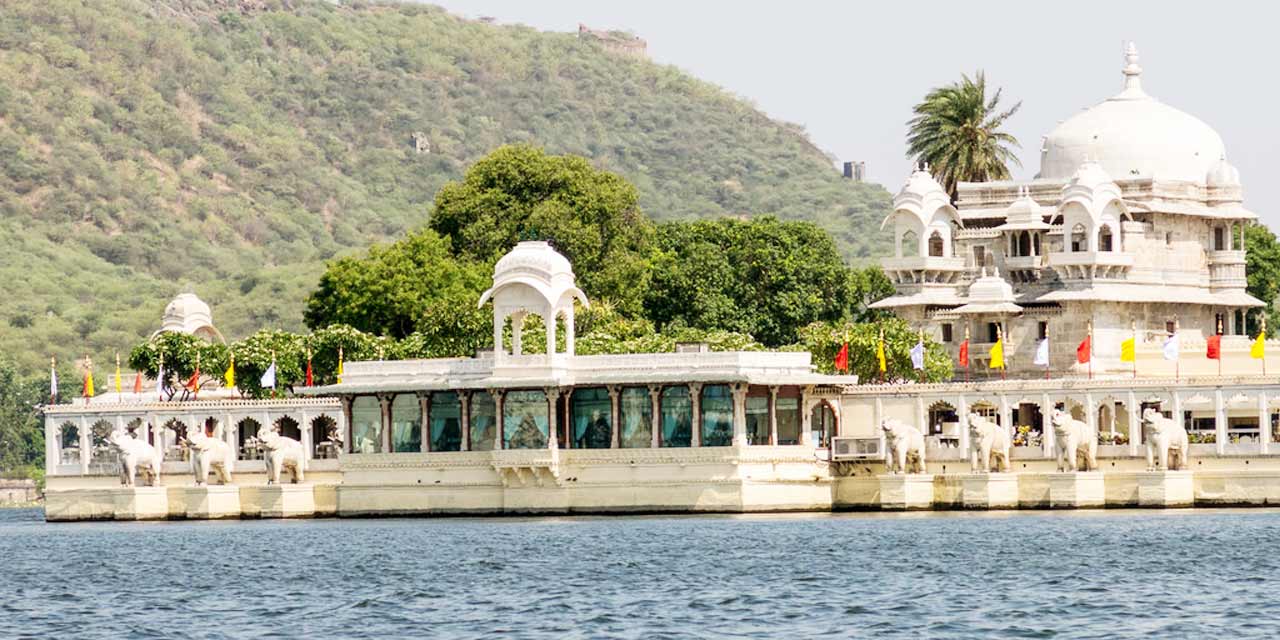 Also known as Lake Garden Palace, Jag Mandir is located on the Lake Pichola. Built during 1620-2652 with the contribution from three Maharanas of the Sisodia Rajputs of Mewar Dynasty, this palace is a huge complex which includes many prominent structures such as Gul Mahal, Darikhana, Garden courtyard, Bara pathron ka mahal, zenana Mahal and Kunwar pada ka mahal.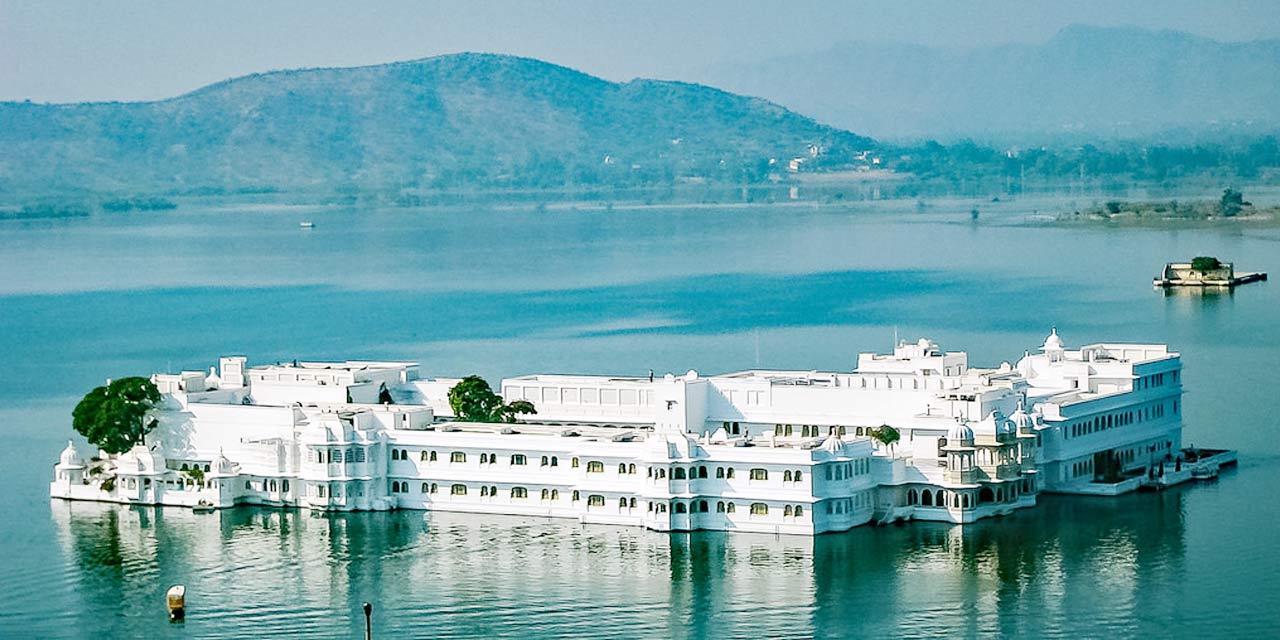 Situated on the island of Jag Niwas in Lake Pichola, Taj Lake Palace is now a luxury hotel which prides in a historically significant and architecturally marvellous building.
Originally called as the Jag Niwas, this palace was built as a summer resort under the supervision of 62nd successor of the Mewar Dynasty- Maharana Jagat Singh II. Built from 1743-1746, this palace can be reached by a boat or jetty.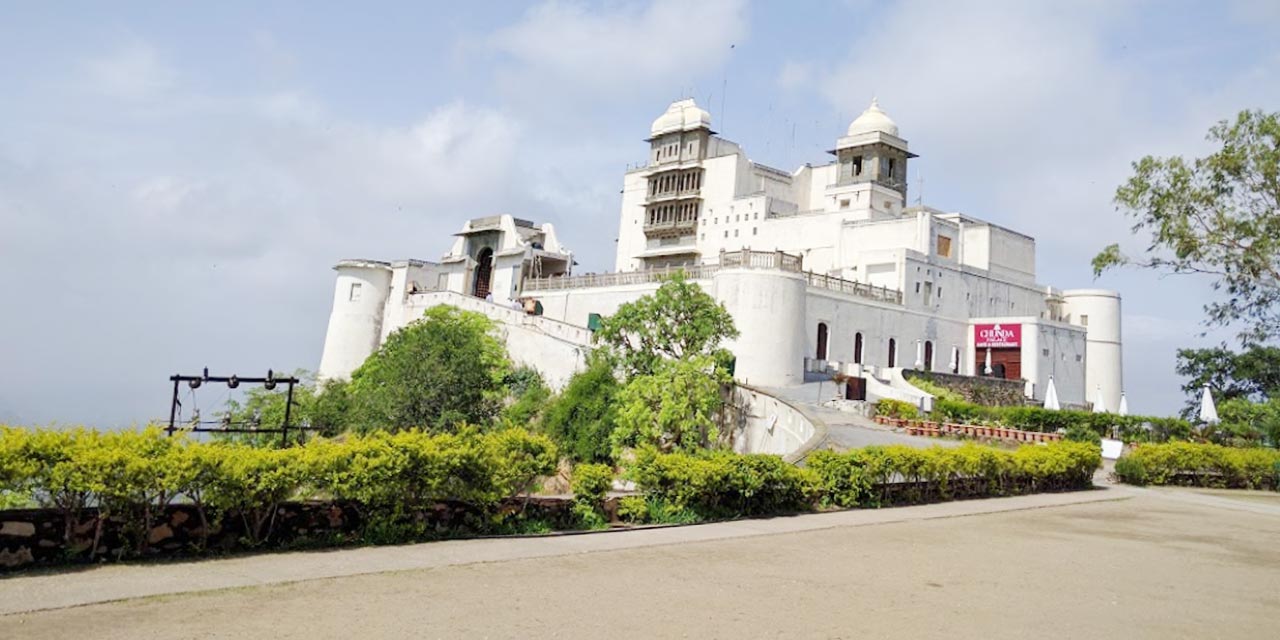 Built in 1884, by Maharana Sajjan Singh during the reign of Mewar Dynasty, Monsoon Palace stand majestically on the top of Bansdara hills. One of the popular sightseeing places in Udaipur and also the most preferred place in our 1 day Udaipur darshan package, this palace, as the name suggests, was used a monsoon resort and as hunting lodge. It is also called s the Sajjan Garh Palace in the honour of its creator.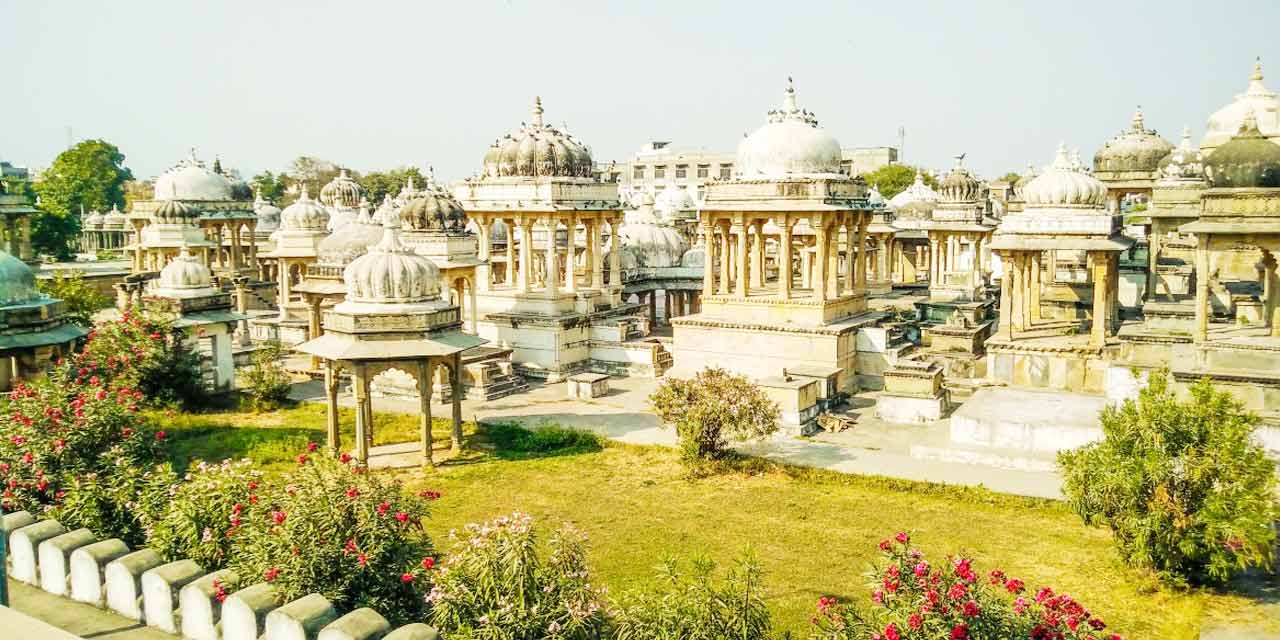 With 372 cenotaphs of Kings and Queens of Mewar Dynasty, Ahar Cenotaphs, the royal cremation ground, presents an interesting glimpse into the history of Udaipur. Although each cenotaphs is an work of brilliance, Maharana Sangram Singh's cenotaph is the most glorious and attractive. Maharana, Bhagwat Singh cenotaphs was the last one to be built at the site.
A few meters away from these cenotaphs is the Government Ahar Museum which showcase a rich collection of artefacts and sculptures, dating back to 1700 BC and even 8th and 16th centuries AD.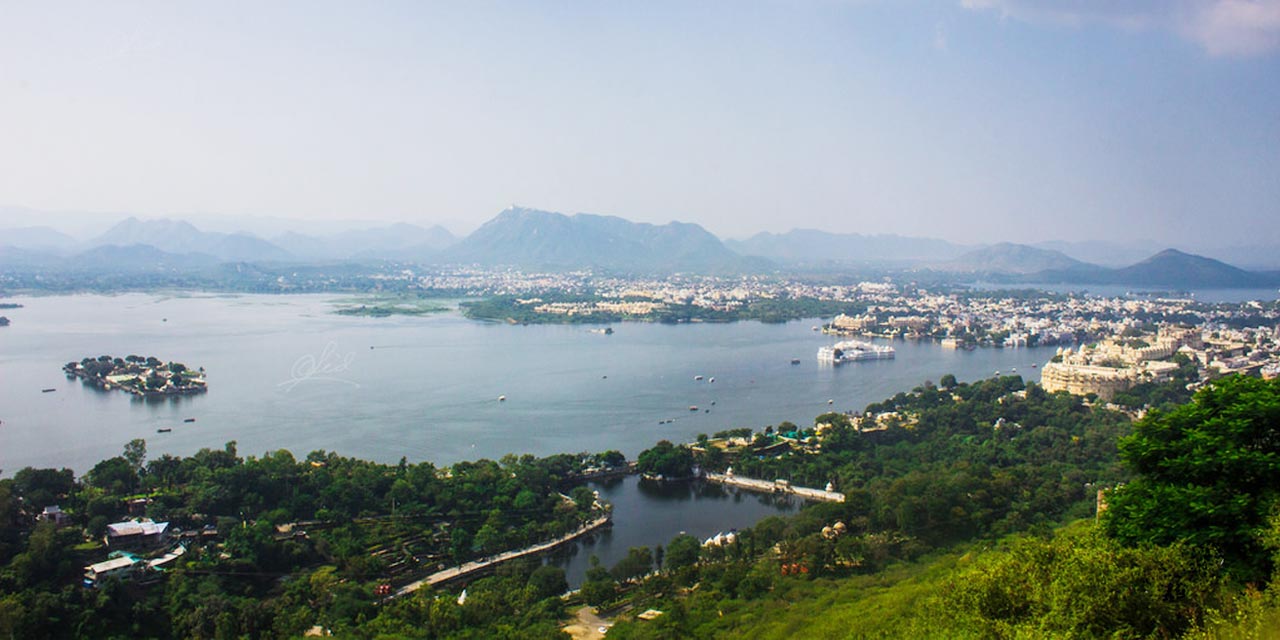 No Udaipur darshan can be complete without visiting Lake Pichola. This is one of the biggest lakes in Udaipur and undeniably one of the busiest as well. Built in 1362 AD, this lake has been names after the village Pichola near to which it is located.
On the eastern bank of Pichola Lake is the City Palace. It also houses the islands of Jag Niwas and Jagmandir, another two prominent sightseeing places of the city and one of the preferred place to visit with Udaipur city tour package by private cab.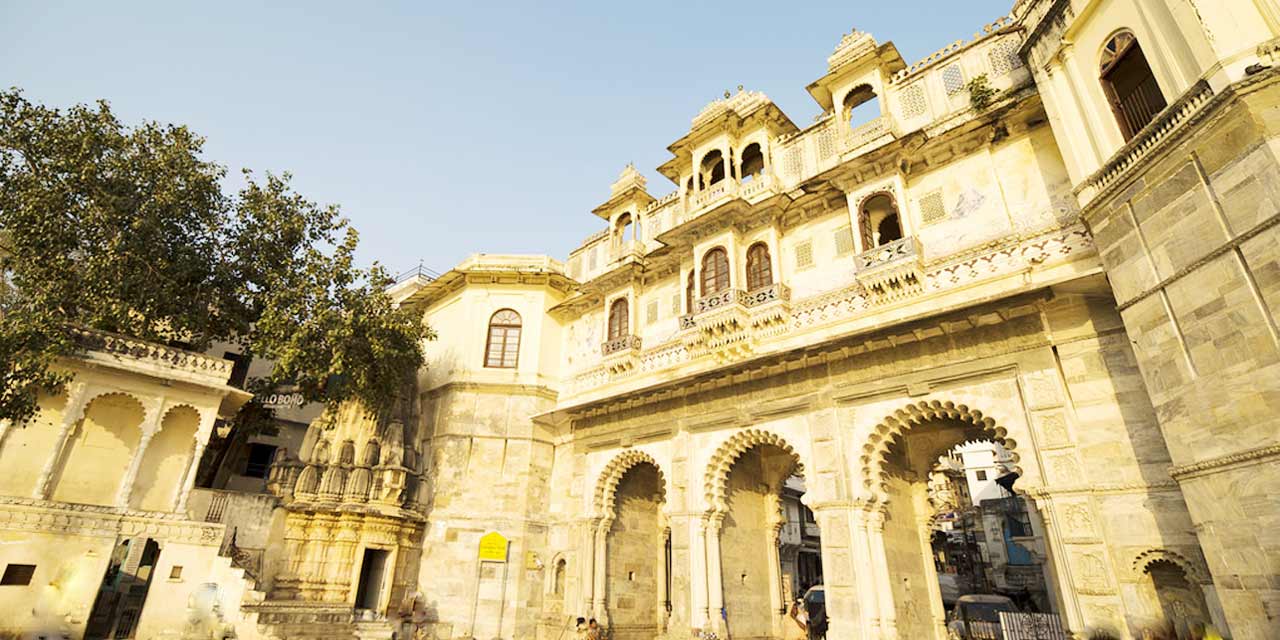 Built in 18th century, Bagore ki Haveli is one of the beautiful palaces in Udaipur that you must not miss while sightseeing through 1 Day Udaipur Tour Packages, especially if you are an architecture enthusiast. Located at the waterfront of Lake Pichola, at the Gangaur Ghat, this haveli boasts of mesmerising interiors which are decorated with mirrors and glass.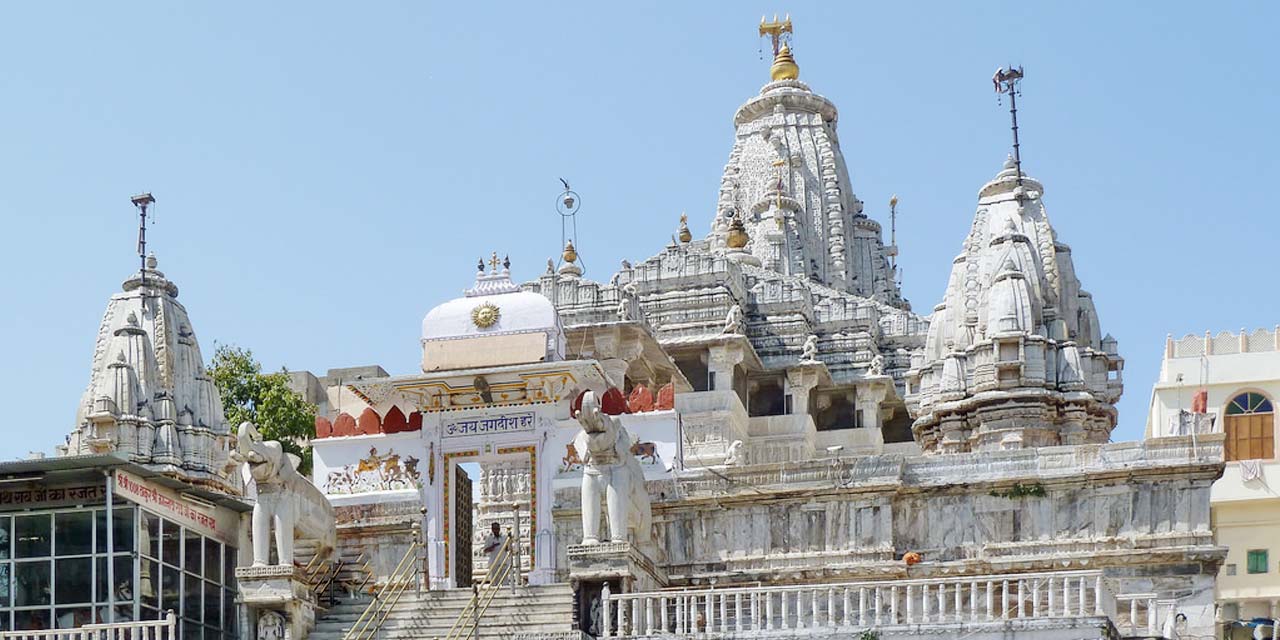 Dedicated to Lord Shiva, Jagdish temple is a three storied temple built in the Indo-Aryan architectural style by Maharana Jagat Singh I. This temple not only allure devotees with its religious significance but also with its intricately carved interiors and painted walls.
---
In addition to these tourist sightseeing places in Udaipur, you can also plan a visit to other attractions with Udaipur local sightseeing tour packages such as Saheliyon ki Bari, Garden Hotel's Vintage Car Collection, Doodh Talai Lake,Navalakha Mahal and Fateh Sagar Lake.
Also with 1 day Udaipur darshan tour package you can customize the plan to include Jaisamand Lake, Udaipur Biological Park, Gulab Bagh and Zoo, Shilpgram, Sukhadia Circle, Under the Sun Fish Aquarium, Udai Sagar, Wax Museum, Bharatiya Lok Kala Mandal, The Crystal Gallery and many more.
There are many interesting sites to explore near Udaipur as well. If interested you can extend your 1 Day Udaipur Tour Packages by one or two days or even a week to visit places such as Sahastrabahu Temple, Sajjangarh Wildlife Sanctuary, Eklingji Temple and Haldighati.
These places when added added to your list of activities, will make your Udaipur darshan even more exciting. You can visit these places by booking a car from the top taxi service providers in Udaipur.
If in case, you are looking for a longer holiday or a travel plan where all your requirements are taken care of, then you can explore the all-inclusive Udaipur tour packages that we at Udaipur Tourism, a division of Holidays DNA offer.
To know more about these packages, you can reach us by filling the Contact Us Form. Our travel executives will then contact you will all the relevant details.
You will also find many popular tourists destinations near Udaipur, within a distance, raging from 1 hour to 5 hours. Destinations such as Jodhpur, Mount Abu, Chittorgarh, Kumbhalgarh, Ambaji, Dungarpur, Nathdwara, etc., are worth visiting. You can either plan a day trip or a night stay at these places. For an easy transportation, you can book a taxi from the best cab operators in Udaipur.
How to reach Udaipur
The most popular way to reach Udaipur is via trains, buses and taxis, if in case you are travelling from a nearby city. Udaipur is connected by road and rail lines to various cities in India such as Delhi, Jaipur, Agra, Chittorgarh, Ahmedabad, Ajmer, Mumbai, Sawai Madhopur, Khajuraho and many more.
The Maharana Pratap Airport which is also known by the name of Dabok Airport connects the city to other destinations such as Mumbai and Delhi by airways.
Udaipur also offers a hassle free way of commuting. With varied choices such as auto rickshaws, buses, bicycles and taxis, it presents tourists with many options to choose from.
However, if you want to have a mode where you can travel to various places in Udaipur without any stress of haggling and in comfort then book a cab from these leading car rental companies in Udaipur.