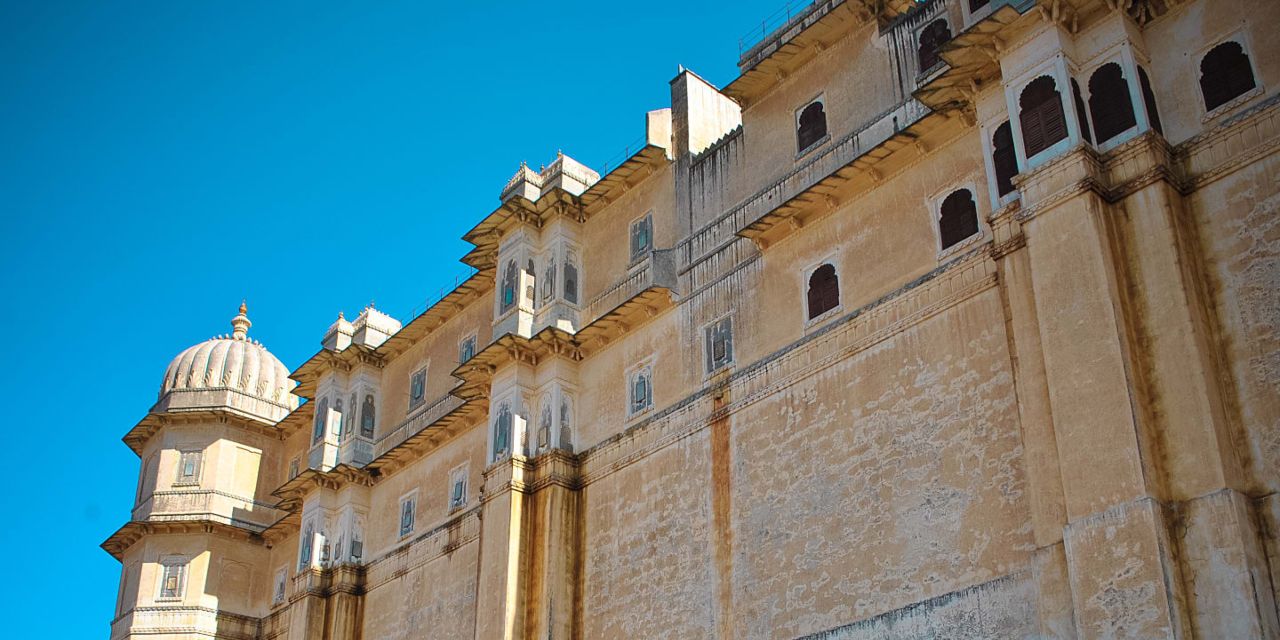 Bada Mahal Udaipur Entry Fee
30 per person for Adults
15 per person for Children
Bada Mahal Udaipur Phone
N/A
---
Rating:
| 4/5 stars
Based on total 73 reviews
Bada Mahal Udaipur Address: City Palace, Udaipur, Rajasthan, 313001, India
---
India is a diverse land of rich history and culture which can be found in every aspect of this nation, be it food, festivals, names, or places. One of the most significant historical factors is buildings. The buildings or monuments are the best witnesses of the history of any area. If you wish to explore Udaipur, the city of lakes, start your journey with the City Mahal.
The City Palace of Udaipur is divided into several sections. One of its most significant parts is the Bada Mahal. Bada Mahal is a grand structure standing on the Udaipur soil, surviving the ravages of time.
To get a brief insight into the lavish and historical life of Rajputs, take a complete Udaipur Tour. You can contact Udaipur Tourism, a division of Holidays DNA to choose a suitable method of traveling and exploring every aspect of Udaipur city.
Architecture of Bada Mahal
Bada Mahal is a marvelous piece of architecture constructed on the 89 feet (27 meters)high rock structure. The intricate carvings on the Palace speak of its unique stature and significance. The interiors of the Palace are adorned with beautifully painted mirrors placed in every room of the Palace. You will be amazed to find that the rooms on the ground floor are built in a different manner.
The height of the ground floor in this Palace is extremely huge. If we go with the present-day architectural pattern, the rooms on the ground floor appear to be on the fourth floor. The exterior of the Palace is decorated with strong pillars, extensive courtyards, and stunning balconies. The fountains installed in the Palace are a treat to watch. The Palace reflects both Rajput and Mughal style of architecture. Surrounded by a lush green garden on four sides, this Palace is also known as Garden Palace.
History of Bada Mahal
Bada Mahal came into existence in the 17th century and is an incredible part of the City Palace. The Bada Mahal is considered to be the male section of the City Palace. The Palace has a swimming pool which was used during the Holi festival. The pool is used to store and splash water during the Holi celebrations.
Image Gallery of Bada Mahal Udaipur
How to reach Bada Mahal
The City Palace is located at an easily accessible location. Hence, the Bada Mahal can be reached via airways, railways, and roadways.
· Airport- The Maharana Pratap Airport is located 21Km away from the Bada Mahal. You can reach City Palace in about 40 minutes via a private cab.
· Railway station- The Udaipur railway station is just 3 kilometers away from the Bada Mahal.
· Public Transport- NH8 links Udaipur to both Delhi and Mumbai, making it an easy option for a road trip. You can also take government-run buses offered by Uttar Pradesh, Gujarat, Madhya Pradesh, and Rajasthan transport corporation.
Commuting within Udaipur City can be a little confusing, especially for tourists. It is in the best interest to hire a private taxi or a cab from recognized car rental companies. Udaipur Tourism offers an exclusive list of top car rental companies in Udaipur, ensuring a safe and sound journey to all your favorite sightseeing places in Udaipur.
Entry fees and timings of Bada Mahal
The City Palace is open every day of the week from 9:30 AM to 5:30 PM. Since Bada Mahal is a part of City Palace, the tourists need not buy any extra ticket. The tourists need to buy a ticket to City Palace only.
The cost of a City Palace ticket is Rs. 30 for adults and Rs. 15 for children. The camera fees are a little expensive i.e., Rs. 200.
Things to do at Bada Mahal
1· If you have a knack for artworks then Bada Mahal is the place for you. The exclusive mirror work on every wall of the palace forming intricate patterns is worth a sight.
2· Bada Mahal lets you peek into the lavish, intricate and royal life of Rajput rulers of ancient times, you won't be disappointed at all.
Places to visit near Bada Mahal
Some of the fantastic places to visit nearby are Lake Fateh Sagar, Maharana Pratap Memorial, Nehru Garden, Rajiv Gandhi Garden and Under the Sun Aquarium.
Things to keep in mind while visiting Bada Mahal
Please note-taking a camera inside the Palace complex is chargeable as well as optional.
Please wear cotton clothes to avoid extreme sweating.
Carry a water bottle as it is a vast place; you might need water.
Wear comfortable pair of footwear, shoes preferably.
---
The beauty of Udaipur is not limited to City Palace. If you wish to feel the luxury and grandeur of Udaipur, then opt for a complete tour of the city by choosing one of our All-inclusive Udaipur tour packages. These travel packages are unique and personalized to facilitate a happy and hassle-free vacation. To get more information about our packages, you can reach us by filling the Contact Us form.
Location Map for Bada Mahal Udaipur