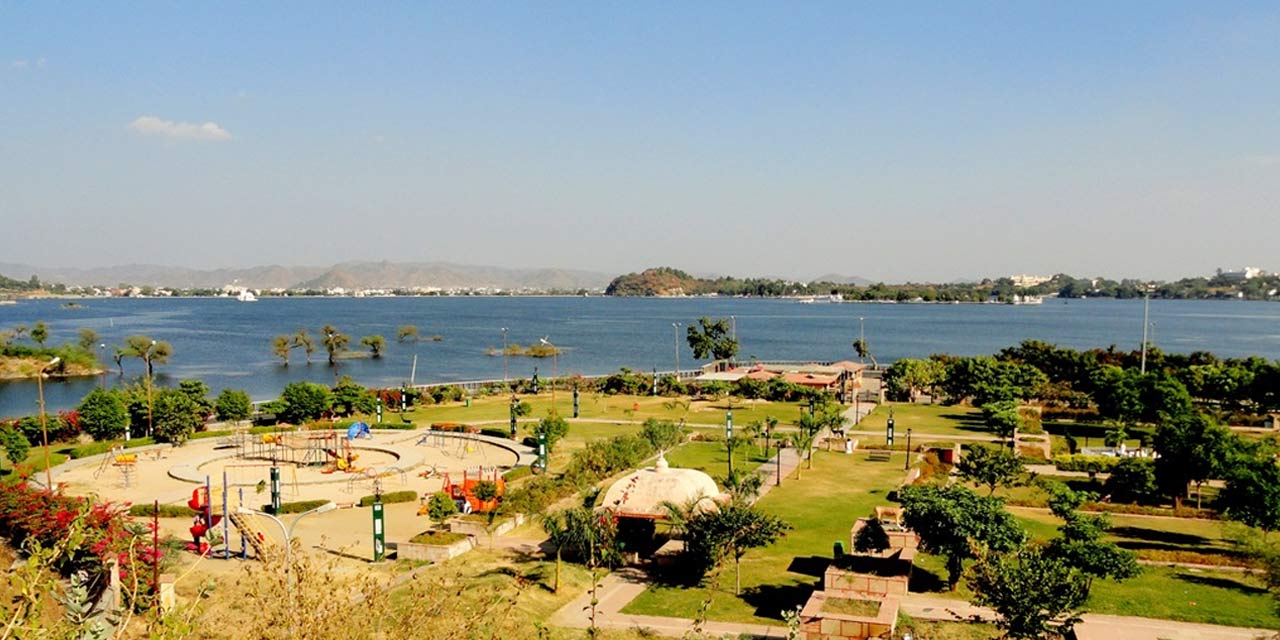 Rajiv Gandhi Garden Udaipur Entry Fee
10 per person for Adults
5 per person for Children
25 per person for Foreigners
Rajiv Gandhi Garden Udaipur Phone
---
Rating:
| 4/5 stars
Based on total 77 reviews
Rajiv Gandhi Garden Udaipur Address: Rani Rd, Fateh Sagar Lake, Udaipur, Rajasthan, 313001, India
---
In the hustle-bustle of everyday life, we often miss out on the little things. City life can get arduous and very hectic. Even when we are travelling, we often squeeze in so many monuments and sightseeing places to visit, that we forget to relax which is the very point of having a holiday. This is why one must shortlist prominent places like Rajiv Gandhi Garden in their top 10 things to do when in Udaipur.
It is one of the biggest parks in Udaipur that offers a great day out in the open. From the kid's play activities, the couple's alone time to a family outing, it has something for everybody.
The park has it all, from big lush green lawns, fountains to even a huge food court where you will be spoilt for choices.
History of Rajiv Gandhi Garden
The garden was built only recently and was inaugurated on 8th May 2008 by former Chief Minister of Rajasthan, Vasundhara Raje. As the name suggests, the park is dedicated to our late Prime Minister Rajiv Gandhi, who was also the youngest Prime Minister of our country. The park also has a statue of him in his memory.
Image Gallery of Rajiv Gandhi Garden Udaipur
Architecture of Rajiv Gandhi Garden
Rajiv Gandhi Garden is spread across various acres and is as close to nature as one can get in city life. If you have been to Mysore's Brindavan Garden, you will find a striking resemblance between both of these parks.
The garden through its architecture, statues of wildlife & fountains and the presence of lush green trees is also trying to pass on the message of conserving wildlife, nature & water.
A special children's garden has been constructed which has various swings & slides such as the merry-go-round, spider-web for kids to play safely and have a good time.
There is also a huge space of land that's been converted into a fountain and can be reached by climbing a few stairs. A slight view of the lake can also be seen from here.
Things to do in Rajiv Gandhi Garden
1. Families can have a great time celebrating a picnic. Whether you come in small or large groups, you are bound to have fun. During winters, you can bask under the sun and enjoy simply being with nature.
2. Kids can enjoy running around in the park, play various games like cricket, badminton or even enjoy the swings & slides.
3. There is a Rolling Mountain known as the Lotan Magri where one can climb a few steps to reach the peak of the garden, lie down on the grass and simply roll down the mountain. One can keep repeating this exercise which is both fun and is said to have acupressure benefits.
4. Devour in the magnanimous food court which has different counters offering different cuisines. The food court is well equipped with comfortable seating.
Entry Fee and Timings of Rajiv Gandhi Garden
The entry fee to visit Rajiv Gandhi Garden is Rs. 10 for Indian Adults and Rs. 5 for Indian children. For foreigners, the ticket price is Rs. 25.
The garden is open from 8 am to 7 pm on all days.
Places to visit near Rajiv Gandhi Garden
The garden is also closely located to various other places of interests such as Shilpgram, Fateh Sagar, Saheliyon-ki-Bari etc which are few of the top 10 things to see in Udaipur. While you are around, save up some time and give them a visit.
1. Fateh Sagar Lake: Visit one of the most mesmerising viewpoints by strolling around the Fateh Sagar Lake or by opting for a boat ride which will cost you only Rs.125. On the banks, you will also find various street food vendors selling delicious local cuisines and chai in a kulhad. If you are lucky, you can also experience a camel or a horse ride.
Enjoy the breeze and sit for hours and spend a great evening here. There are various cafes and coffee shops around if you want to have a romantic cosy meal with your loved ones.
2. Saheliyon-ki-Bari: One of the most visited monuments in Udaipur is Saheliyon-ki-Bari (Garden of Maids) which is enormously famous for its marble art, fountains and its lush green lawns.
It is said that the garden was designed by one of the Mewar kings, Maharana Bhopal Singh and was gifted to his wife and for her 48 maids who had accompanied her upon marriage as dowry.
To add to the beauty of the garden are the elephant-shaped rain fountains. There is also a museum which boasts of a collection of the royal household items, ancient pictures, artefacts and other valuables from the royal era.
3. Shilpgram: If you want to experience the heritage & culture of Udaipur in a local way, Shilpgram is the place for you. It is a village of the artisans which showcases the traditional Rajasthani arts and crafts culture coupled with bits of Mughal and European history.
You may also find indigenous people perform various folklores and showcase their craftsmanship. It's very popular for the Shilpgram festival which is hosted every year (mostly in December) & showcases talents of over 600 rural artisans.
How to reach Rajiv Gandhi Garden
The Rajiv Gandhi Garden is in close proximity to the Fateh Sagar Lake on Rani Road. This makes it an agreeable location for different kinds of travellers. Reaching Rajiv Gandhi Garden is very easy. You can take a Tuk- Tuk, auto or can even hire a cab in Udaipur. For a hassle free commutation within the city, you can also book a private cab from top car rental companies in Udaipur.
Distance from Udaipole Bus Stand: 6.5 km
Distance from Railway Station: 7.5 km
Distance from Airport: 26 km
Distance From Fateh Sagar Lake (Rani Road): 1.3 km
Add Rajiv Gandhi Garden to your list of things to do in Udaipur & we are certain you will not be disappointed.
---
Udaipur Tourism, a division of Holidays DNA makes your trip to Udaipur all the more enjoyable with Udaipur Tour packages available at pocket friendly prices. You can visit all the popular sightseeing places of Udaipur in the comfort of a private car. Please fill the Contact Us form and we will get back to you.
Location Map for Rajiv Gandhi Garden Udaipur