Udaipur has become one of the most popular destinations for tourists these days. And why not? Surrounded by the spellbound Aravallis and historical Havelis, the city of lakes can take anyone's heart away. It's a place where you can wake up to the cacophony of pigeons, roam the city's old streets, and feel like a part of a romantic movie.
Udaipur is also known as the Venice of the East because of the five gorgeous lakes, namely Lake Pichola, Fateh Sagar Lake, Swaroop Sagar Lake, Rangsagar, and Doodh Talai Lake. Each of these lakes has something beautiful to offer and helps you escape the hustle of city life.
Housing some of the most fabulous architectural creations, Udaipur will give you a chance to experience the grandeur of Indian royalty. There are tons of things you can do in this magical city: wander aimlessly in the narrow gullies, over the lakes, and in the timeless city. You can also explore the historical ambience of Jag Mandir, Monsoon Palace, Bagore Ki Haveli, and City Palace.
If you get overwhelmed with all the grand places and lakes, stop for a quick lunch or dinner at the local restaurants. There are numerous rooftop cafes and restaurants available that serve a splendid view of the lakes. However, if you're visiting Udaipur in summer, spending your entire trip under the scorching sun can be tiring. This is why another must-visit place you need to have in your tour plan is amusement and theme parks.
Udaipur has some of the best amusement parks that are perfect for children, adults, and teenagers. These parks will help you relive your childhood days and experience a day full of fun. By enjoying the rides and water parks, you can strike a perfect balance between entertainment, adventure, and leisure on your vacation.
Here we have listed the top amusement and theme parks in Udaipur that are worth your time. So, go ahead and visit these parks next time you plan a trip to Udaipur.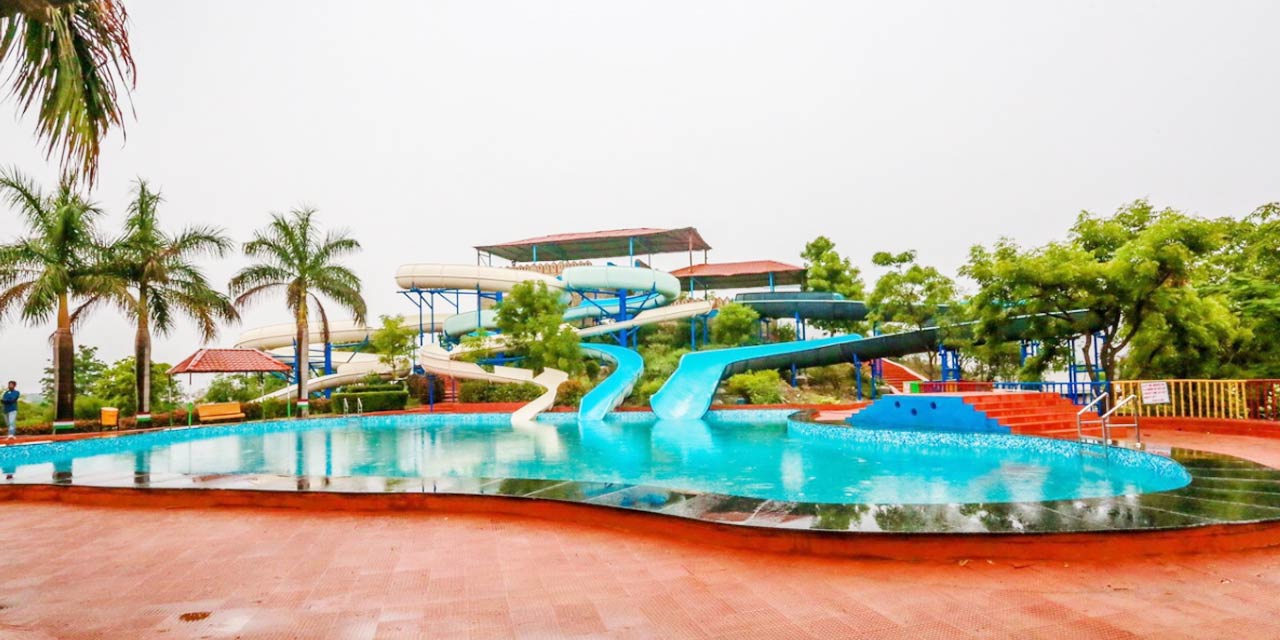 If you want to get away from the scorching heat of summer, Marvel Water Park is a great place to be in Udaipur. Set amidst the Goverdhan lake and Aravallis, this amusement park is an ideal destination for you and your family. Surrounded by the luxuriant beauty of trees, Marvel Water Park seems like a wonderland for wholesome entertainment.
The park is famous for having cool water rides and splashing pools! With all the attractions and fun games, undoubtedly, you'll have a great time with your kids.
Marvel Water Park promises to make your weekend memorable with adrenaline-filled water slides, simulated rain dances, and dry slides. Some of its popular attractions are Mini Aqua trail Slide, Aqua Splash Pool, Mushroom WaterFall, Wave Pool, Pendulum Slides, Zip Zap Zoom, and many more!
The best thing is Marvel Water Park isn't just for your kids. Even your entire family can have a fun experience with the slides and pools. For example, their Family Float Water Slide is the perfect spiral ride to slide on with your friends and family.
The Kids Splash Pool is another great attraction of this park. The park provides tubes to make the splashing pool kid-friendly. Apart from all the water rides and pools, you can also have fun on the dry slides or bust a party move in the stimulated rain dance area.
What's more? The amusement park offers you an indoor food court and restaurants to relish the food of Rajasthan. You can relax at the food court and savour the local dishes, drinks, and snacks.
When it comes to safety, Marvel Water Park does a pretty good job at providing first aid and nursing staff. Moreover, the entire park is under CCTV surveillance, so you don't have to worry about the security of your family. And if you want to bring four-wheelers or two-wheelers, there's ample parking space available at Marvel Water Park.
From provisioning costumes for water slides to personal lockers, tons of facilities are available at this amusement park. So, if you want to spend a day full of fun with exciting water rides in Udaipur, Marvel Water Park should be on your list.
Location: NH 8 Saras Parlor, Goverdhan Villas, Sector 14, Udaipur, Rajasthan
Entry Fee: For adults INR 500; for people below the height of 4ft, INR 300. For costumes and locker, you need to pay INR 100 each.
Timings: 10.30 am to 6.00 pm on all days
Distance: From Udaipur bus stand - 6 km, from Udaipur railway station - 5 km.
2. Jeel Water Park
Located in Chitrakoot Nagar, Bhuwana, which is quite close to Bhairav Garh Palace, Jeel Water Park is one of Udaipur's most famous tourist hotspots. Spread over an area of about 2,25,000 sq. ft., the amusement park is landscaped beautifully amidst the Aravalli hills.
From water slides to wave pools, Jeel Water Park is the home of everything fun and fantastic. Here you can explore a magical world full of adventure, leisure, and cuisines. The water park houses top-rated and popular adventurous rides. So, without a doubt, your kids and the entire family would love to spend their time in Jeel Water Park.
Some of the activities offered by Jeel Water Park include boating rides, a wave pool, multi-lane slides, a garden, dry slides, and water slides for kids and adults. They have separate pools for adults and kids so that each one of them can enjoy their own space.
One of the best attractions of Jeel Water Park is the artificial lake. You can appreciate the beauty of the lake while taking a fun boating ride. Also, you can throw a party with your friends in the musical environment of the park. Popular Bollywood tracks are played in the rain dance to keep you excited.
Apart from sliding in the rides or splashing in the pools, you can also spend your day at the food court or restaurants near the pools. Delicious food is available here for both kids and adults.
In terms of safety, Jeel Water Park ensures that your kids are safe in the pools by providing tubes. Also, the park is under the surveillance of the lifeguards and CCTV to keep the visitors secured.
So, next time when you visit Udaipur, make sure to spend a day in Jeel Water Park to have a memorable and fun-filled trip.
Location: 200 Ft. Road, Chitrakoot Nagar, Bhuwana, near Bhairav Garh Palace, Udaipur
Entry Fee: 250 INR per person
Timings: 10 am to 6:00 pm on all days
Distance: From Udaipur bus stand- around 10 km, from Udaipur railway station- around 11 km
3. Snow Park
Want to escape from the scorching heat during a summer trip? Then what can be more suitable than playing in the snow and experiencing the chills of a hill station in Udaipur? Located inside the Celebration Mall, the Snow Park is one of the best theme parks in Udaipur.
The Snow Park is designed at a sub-zero temperature ( -5℃) that offers you the thrill of a chilling climate. Here you can build a snowman, have snowball fights with your friends, or simply enjoy the cool climate. Undoubtedly, it's a perfect place to visit with your friends, family and kids to escape a summer day.
The main attractions of the artificial Snow Park are the ice slide, snow cave, igloo, sledges, snow hut, snow play area, and many more. Inside the Snow Park, you can experience stimulated snowfall that will keep your kids enthralled. If you want to have a party inside the snow park, head to the dance and music area. They've foot-tapping music collections to make your visit to the park worth remembering.
Whether you've come here with your friends or family, Snow Park has something special for everyone. You can shop inside the mall, eat, play with snow, and have a lot of fun at a -5 degree temperature. Apart from this, laser lighting and snow thunder activity are also available inside the Snow Park.
The park authority will provide you with warm jackets, shoes, socks, and waterproof clothing. However, if you're suffering from asthma, heart, or other health issues, it's best not to visit the park. Also, while having fun, make sure to maintain caution, as the snowy place is a bit slippery. All in all, it's safe to say that if you love adventure, the Snow Park is a must-visit during your stay in Udaipur.
Location: 2nd floor, The Celebration Mall, opposite Devendra Dhan, Pulla Bhuwana, Bhuwana, Udaipur, Rajasthan
Entry Fee: 400 INR for adults
Timings: 11.00 am to 10.30 pm on all days
Distance: From Udaipur bus stand- around 6 km, from Udaipur railway station- around 7 km
---
There you go! These are the top three best amusement and theme parks in Udaipur that are zones of thrill, excitement, and entertainment. Be it a kid or an adult; amusement parks are something that excites everyone. That is why they always top the list of "things to do" on every tour. So, when visiting Udaipur, make sure to chill out in one of these parks to experience fun throughout the day.
Udaipur Tourism, a division of Holidays DNA also offers a variety of Udaipur Tour packages that you can choose from during your tour. With us, you can explore all the popular tourist places to visit in Udaipur in a fun filled manner. Please fill the Contact Us form to know more.