Udaipur is one of the most gorgeous cities in Rajasthan and a special one in all of India for its unique topography. It is popularly known as the 'City of Lakes' after the numerous lakes that fill up most of the area, adding to the charm of the place. For this reason, Udaipur is sometimes regarded as the 'Venice of the East'.
The top attractions here are undoubtedly the lakes and the sights around the lakes. Lake Pichola, Lake Fateh Sagar and a few other artificial lakes provide for most of the entertainment and water activities in Udaipur, apart from the scenic beauty of the numerous gardens that flank these water bodies.
This city is also big on palaces and museums. City Palace & Museum, Jagmandir Island Palace, Sajjangarh Palace and several others will enthral you with their opulence and regality. Udaipur is home to many ancient Hindu temples as well, Eklingji Temple and Jagdish Temple being the most famous.
Along with sightseeing, you can enjoy a cable car ride to Machla Magra (which literally translates to 'Fish Hill') from where you will have a bird's eye view of all of Udaipur. Shilpgram, the cultural village, will allow you a live experience of the local music and dance forms. The city also has plenty of surprises for shopaholics, especially at the Hathipole Market in the old Udaipur.
While you busy your eyes and ears soaking in the sights and sounds of Udaipur, your taste buds will also have a great time here. Local Rajasthani dishes are made with lots of ghee and offer an aromatic journey to your olfactory organ.
Top Places to Visit in Udaipur
The most loved attractions in the City of Lakes are obviously the lakes and palaces. This list gives you a glimpse into those and a few other places that will make your trip worth the while.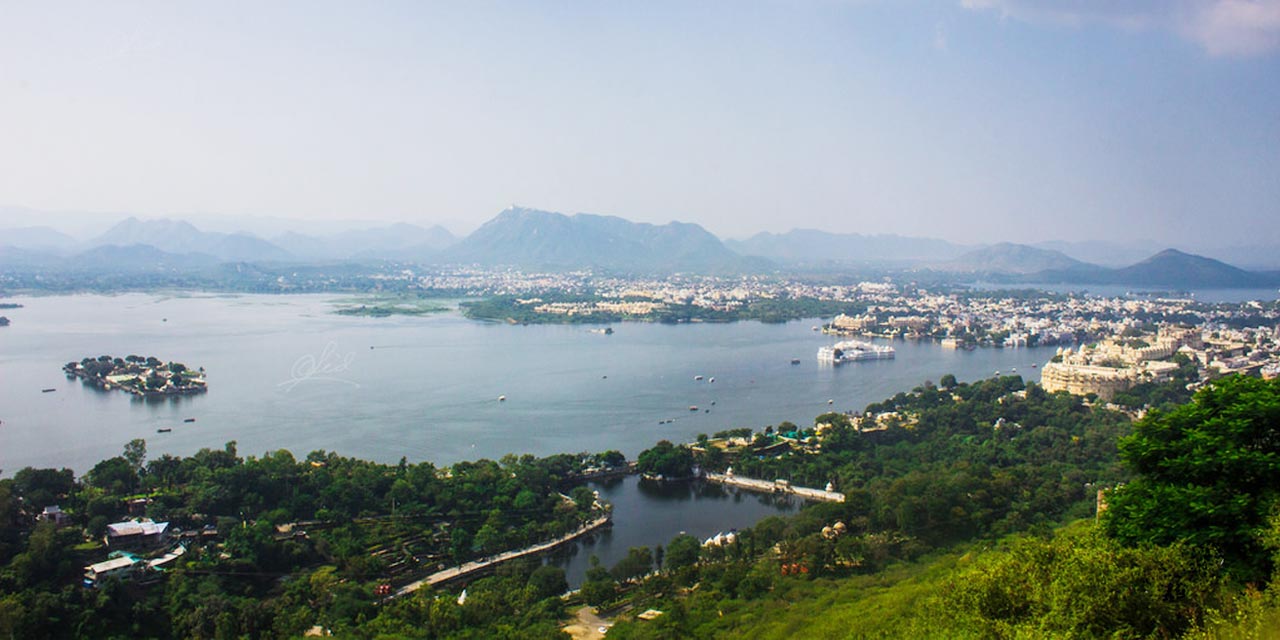 The most famous lake in Udaipur is also its oldest. Lake Pichola is actually an artificial lake built in 1362 A.D. Surrounding this lake are a number of pretty restaurants and cafes that let you enjoy the lake view.
Inside Lake Pichola, there are 4 islands, namely, Jag Mandir, Mohan Mandir, Jag Niwas and Arsi Vilas, each of which has a beautiful palace resting on it. The luxurious Taj Mahal Palace sits on the Jag Niwas Island. These islands can only be reached via boat.
Commercial boat rides begin at 10 in the morning and are on until 5 in the evening. The lake looks particularly splendid during and after sunset. Hence, boating in the evening is priced at twice the regular fare.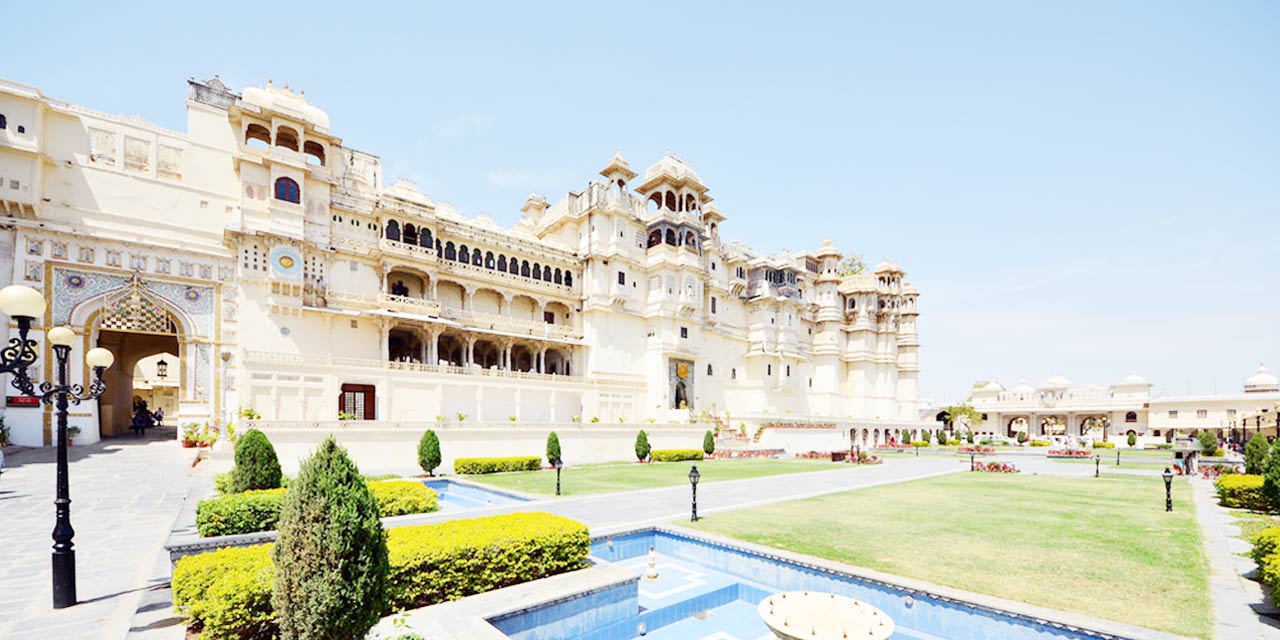 Built beside Lake Pichola, the City Palace is a huge palace complex which encompasses some halls, galleries and other palaces that are attractions on their own. The entire complex took around 400 years to be fully built. The construction was started by the ruling king of Mewar – Maharana Udai Singh II in 1553. By the time the City Palace was fully built, it saw 22 generations of Sisodia Rajputs.
Over the years, some of these mini palaces have been converted to luxury hotels and museums. The structures in the palace complex are built in Mughal and Rajasthani architectural styles, with the use of marble and granite. From many of the rooms and balconies, one can see the Lake Pichola. The terraces on the higher floors also offer views of the rest of Udaipur.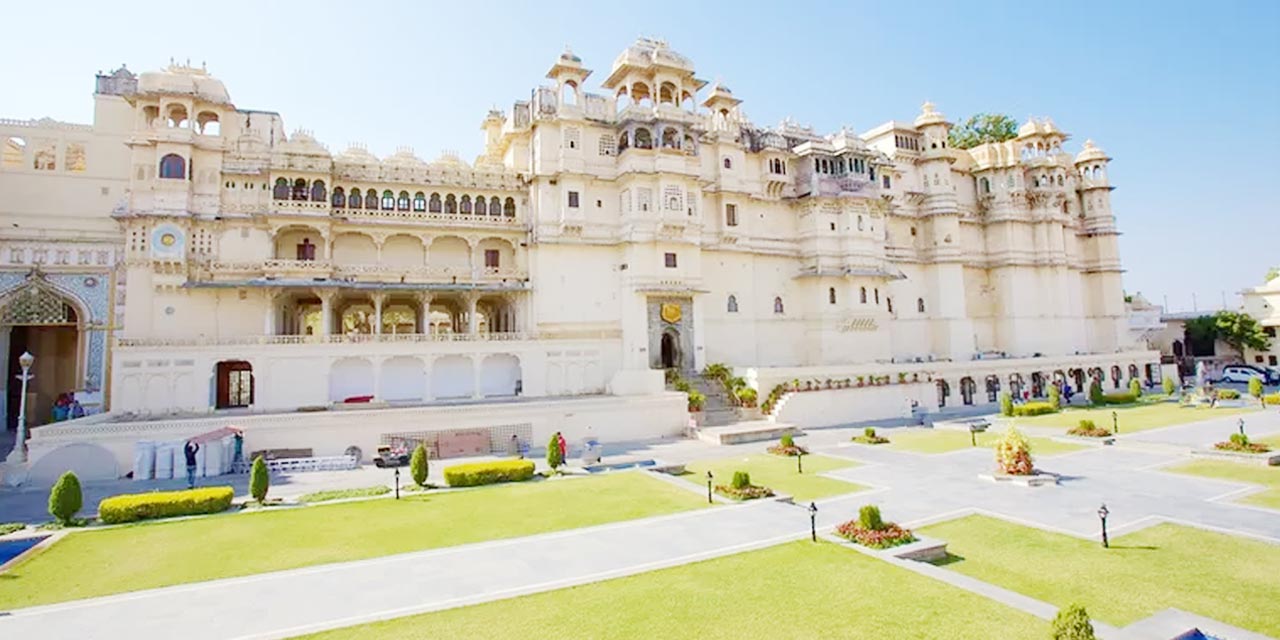 The main museum inside the City Palace was once the Zenana Mahal or the Ladies Chamber. In 1974, this was revamped into the City Palace Government Museum. This museum largely exhibits sculptures and antiques.
Every year, the World Living Heritage Festival is held at the museum. This is a great time to interact with art and crafts experts and attend workshops. Musical performances are also held in the open spaces.
The museum is open on all days between 9:30 AM and 5:30 PM. The regular entry fee for adults is INR 250. If you wish to take your camera along, you pay INR 250 again.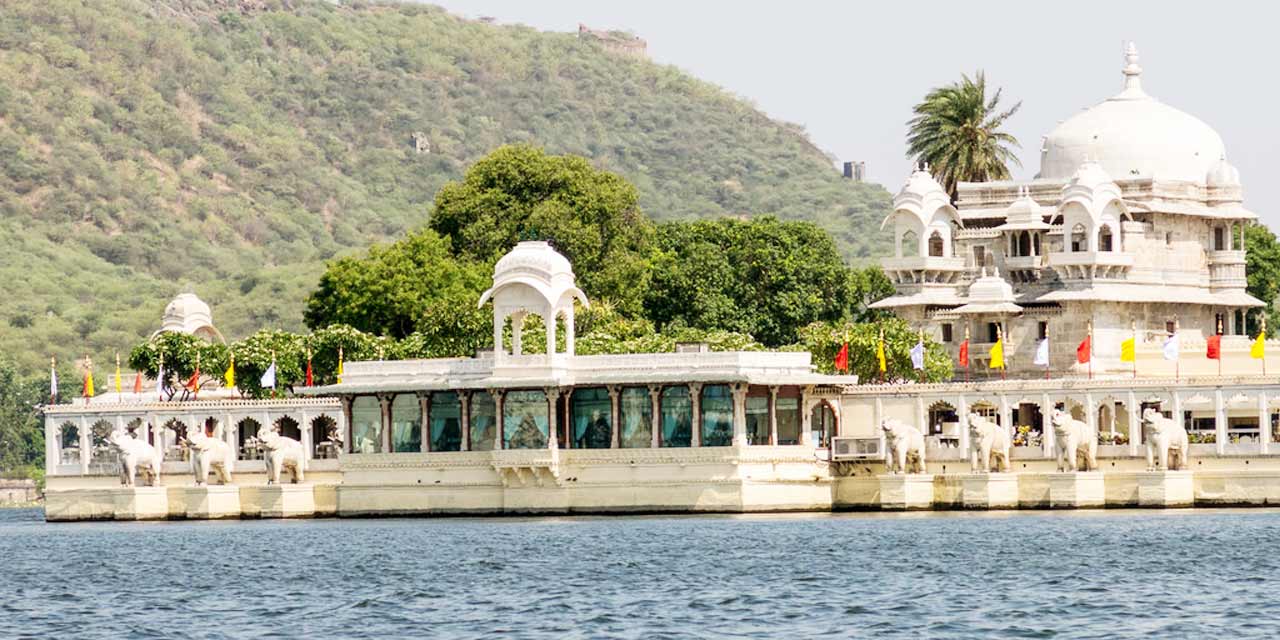 Located on the island of the same name, the Jagmandir Island Palace appears to float on Lake Pichola. Also known as Lake Garden Palace, the construction of this building was commissioned by Maharana Amar Singh in 1551. The work was finished in the era of his grandson, Maharana Jagat Singh I. The palace is, therefore, actually named Jagat Mandir after him.
Since the palace is in the middle of a lake, it can only be reached via boat. It takes about half an hour to reach Jagmandir Island Palace from the jetty at Bansi Ghat. It is open on all days from 10 AM to 6 PM.
Most visitors prefer to lunch at the palace restaurant named 'Darikhana' which specializes in Rajasthani cuisine. This three-storey palace is surrounded by a courtyard and a lovely garden where private parties are hosted.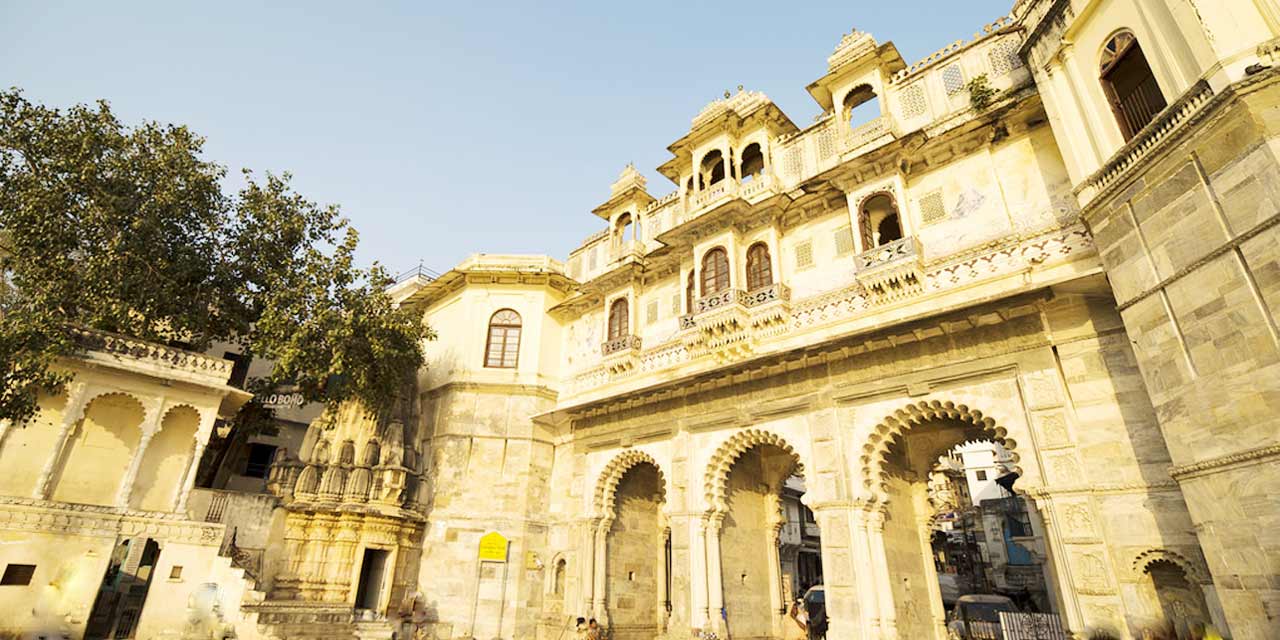 This palace and museum is located at the Gangori Ghat of Lake Pichola. It was built by the 18th century Prime Minister of Mewar – Amar Chand Badwa. Since 1986 though, this residential haveli is a museum.
There are more than a hundred rooms in Bagore Ki Haveli, each decorated lavishly with mirror-work and murals on the walls and doors. The museum is further divided into 5 museums which showcase the palace rooms, puppetry, weaponry, Indian weddings through puppets and dolls, and turbans from across India.
Open from 9:30 in the morning until 5:30 in the evening, Bagore Ki Haveli also offers a unique Dharohar Dance Show from 7 PM to 8 PM.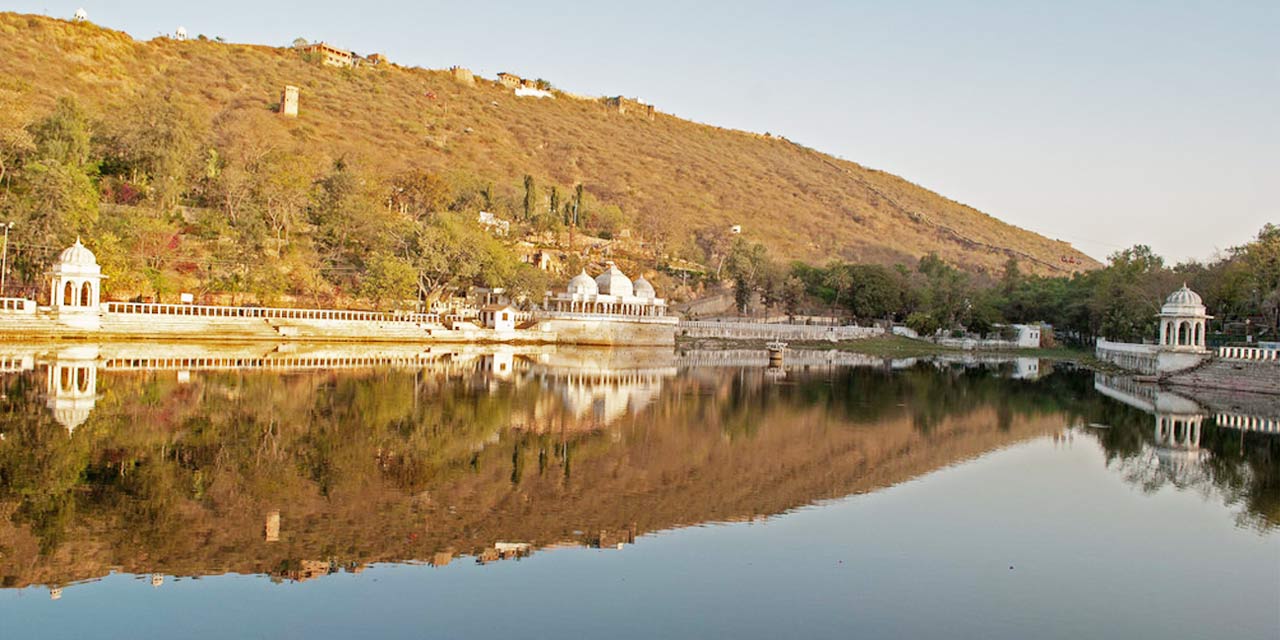 Surrounded by the Aravalli Range of mountains on three sides, Lake Fatehsagar happens to be the 2nd largest artificial lake in Udaipur. There is a promenade circling the circumference of this lake which makes for the perfect platform for a morning or evening walk.
Built by Maharana Fateh Singh in the late 19th century, Lake Fatehsagar gets its water through a dam named 'Connaught Bund'. It is possible to indulge in a lot of water sport activities here, such as boating, motor-boating and speed-boating. On the lake itself, there are three islands, two of which are parks and the other is a solar observatory.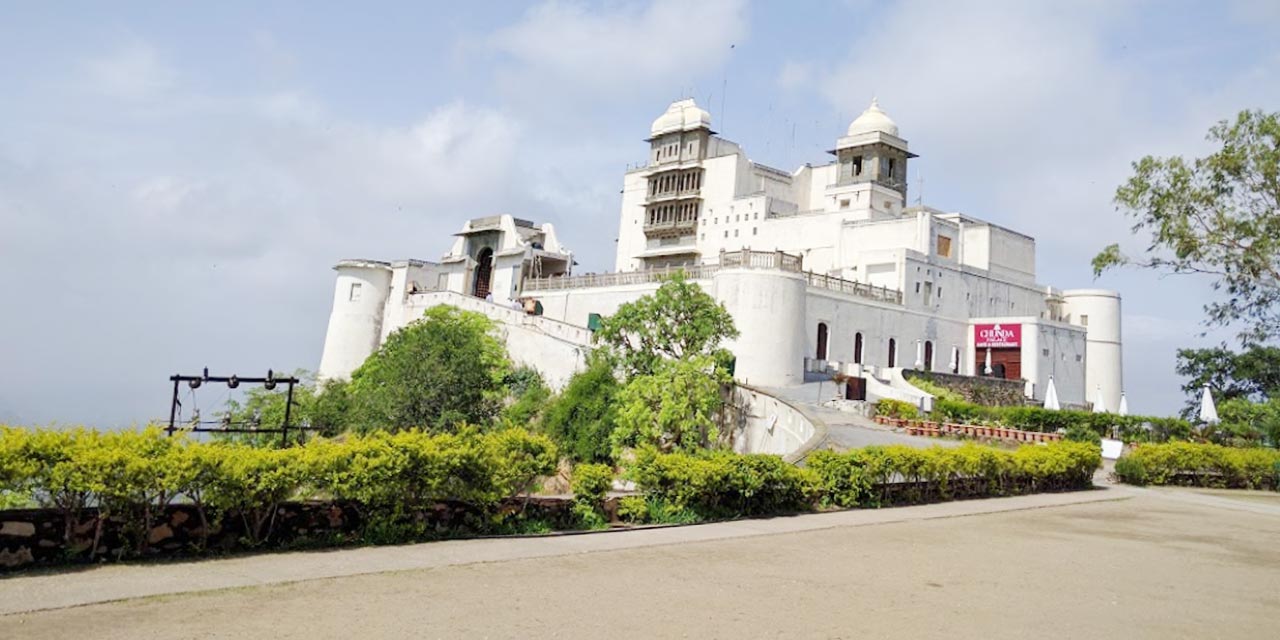 5 kilometres from Udaipur, Sanjjangarh Palace is a fort on the Bansdara Peak of the Aravalli hills. It served as the monsoon residence of Maharana Sajjan Singh. Built in 1884, its main purpose, apart from housing the king of Mewar, was to let him watch the rain clouds.
The views from up here are absolutely delightful, as you can see most of Udaipur's lakes and the hilltops of the Aravallis from the terrace courtyard. The fort is 9 storeys tall and built of white marble. There is also a system to harvest rainwater and store it in a cistern underground.
The palace is open to visitors on all days from 8 AM to 6 PM, and entry costs only INR 10. If you are taking your camera with you, that will be another 20 rupees. Foreign tourists pay INR 80 to enter.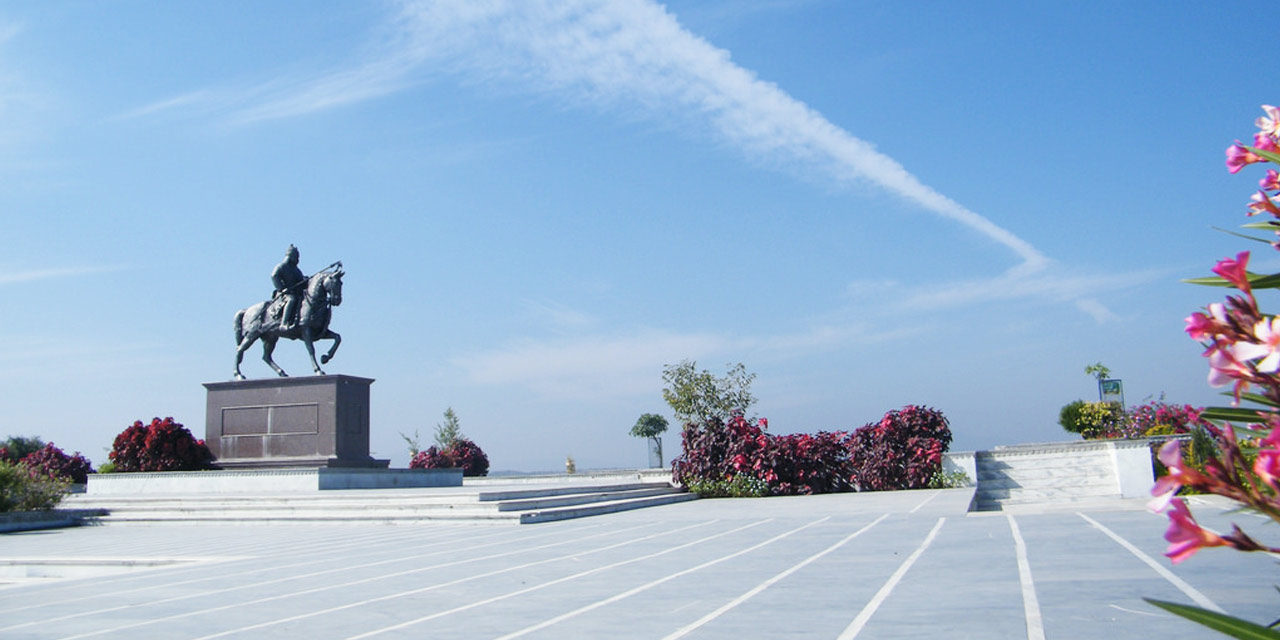 Built atop the Moti Magri hill, Maharana Pratap Memorial honours the courage and spirit of Rajput warrior king Maharana Pratap. The memorial is a bronze statue of the ruler mounted on his beloved horse – Chetak. Often called the Pratap Smarak, this monument was erected by Maharana Bhagwat Singh in the 18th century. The statue weighs a whopping 70 tonnes and is 11 feet tall.
There is a winding road that leads all from the foot of the hill (next to Lake Fatehsagar) to the top (where the memorial is). One gets an amazing view of the lake and several places of the city from up here. On the way, you can stop by at the museum which has a scaled down model of the Aravallis and the various forts and important cities of Mewar marked on it. You can also look at the portraits of several members of the royal Sisodia Rajput family, and a few paintings collected by the Maharana.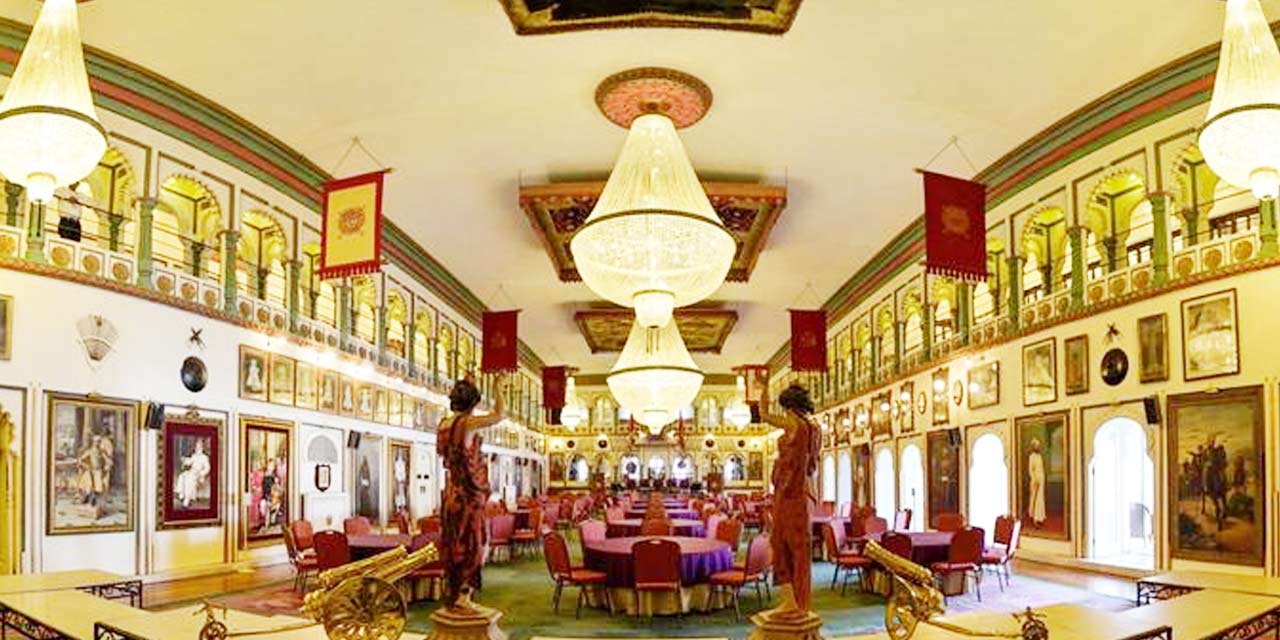 One of the most dazzling and extravagant rooms in the City Palace is located inside the Fateh Prakash Palace (which is now a luxury hotel) – Crystal Gallery. This gallery is full of crystal articles from around the world.
The collection once belonged to Maharana Sajjan Singh but public has started viewing the exhibits only since 1994 when this turned into a museum. There are not only enormous chandeliers and lamps but also jewel encrusted furniture and upholstery.
Open from 9 AM till 6:30 PM, the museum costs INR 700 for adults to enter, which includes an audio guide with the ticket. They don't let anyone photograph the interiors.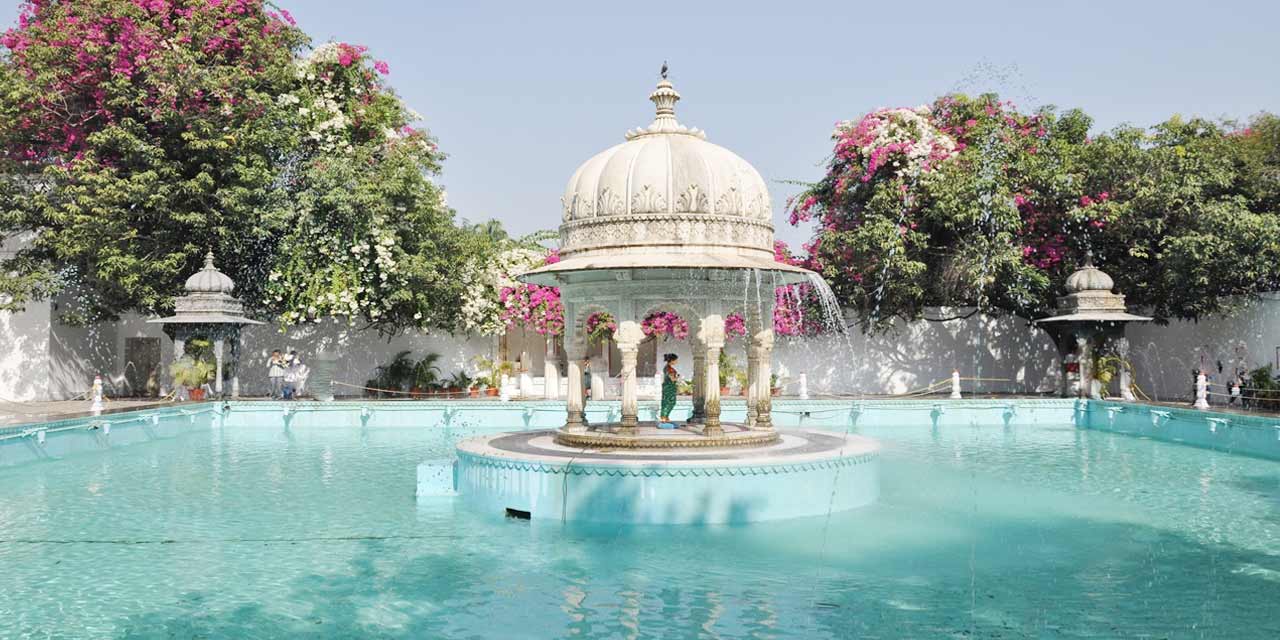 This sprawling area of gardens, pools and fountains was built by Rana Sangram Singh of Mewar Dynasty for his queen and her maidens. There are 4 pools of water at Sahelion Ki Bari, the first of which appears right after you enter. One can see a gazebo fountain at the centre of this pool with the statue of a maiden pouring out water from her pot.
As you venture further inside and witness the lush gardens, you will also come across another exquisite fountain of gargoyle-like structures of lions spouting out water through their mouths.
Garden of the Maidens is a great place for birdwatching and identifying plants and butterflies as well. This sight is open every day from 9 AM till 7 PM, and entry is a mere INR 10.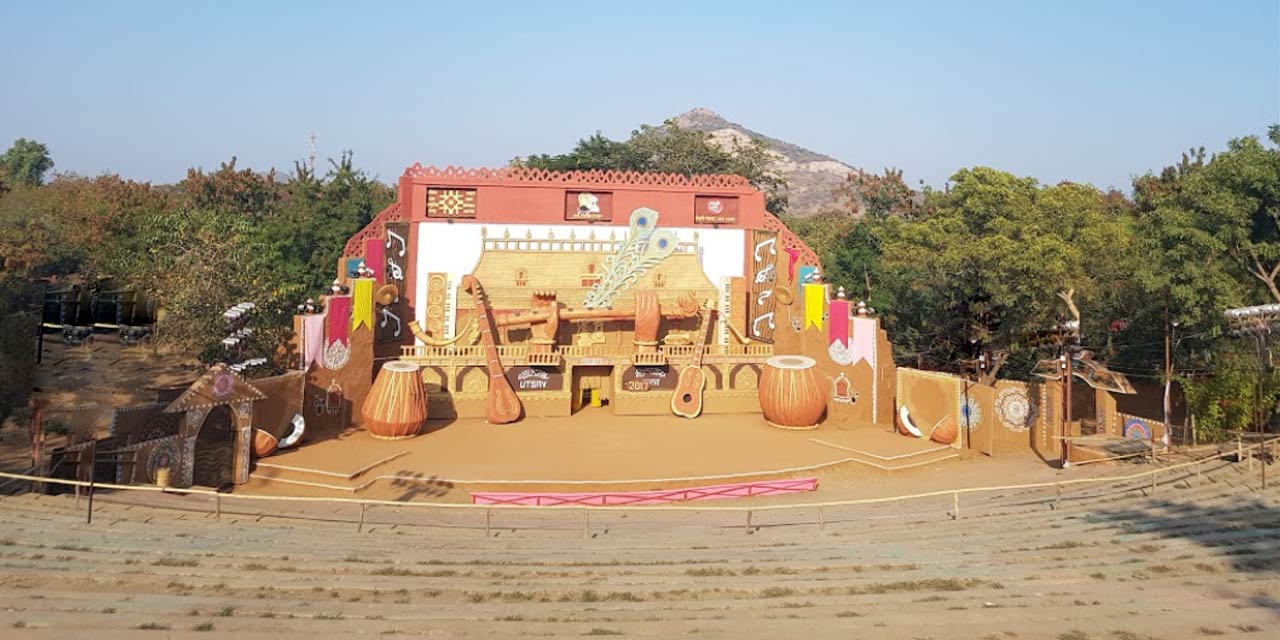 Literally meaning 'artisanal village', Shilpgram is an experiential museum and marketplace which showcases Rajasthani art and craft. Spread over 70 acres, this experiential village has more than two dozen huts that display unique arts and crafts not only from Rajasthan but also Gujarat, Maharashtra and Goa.
Located about 3 km from Udaipur, Shilpgram will consume at least half a day to be nicely explored. You can also enjoy some dance and music performances while you are here. Tourists can enter here between 11 AM and 7 PM for just INR 30.
There are several food stalls here that will let you taste authentic Rajasthani food. Starting from noon, the Haat Bazaar opens its doors to shoppers who would like to pick something up as a souvenir.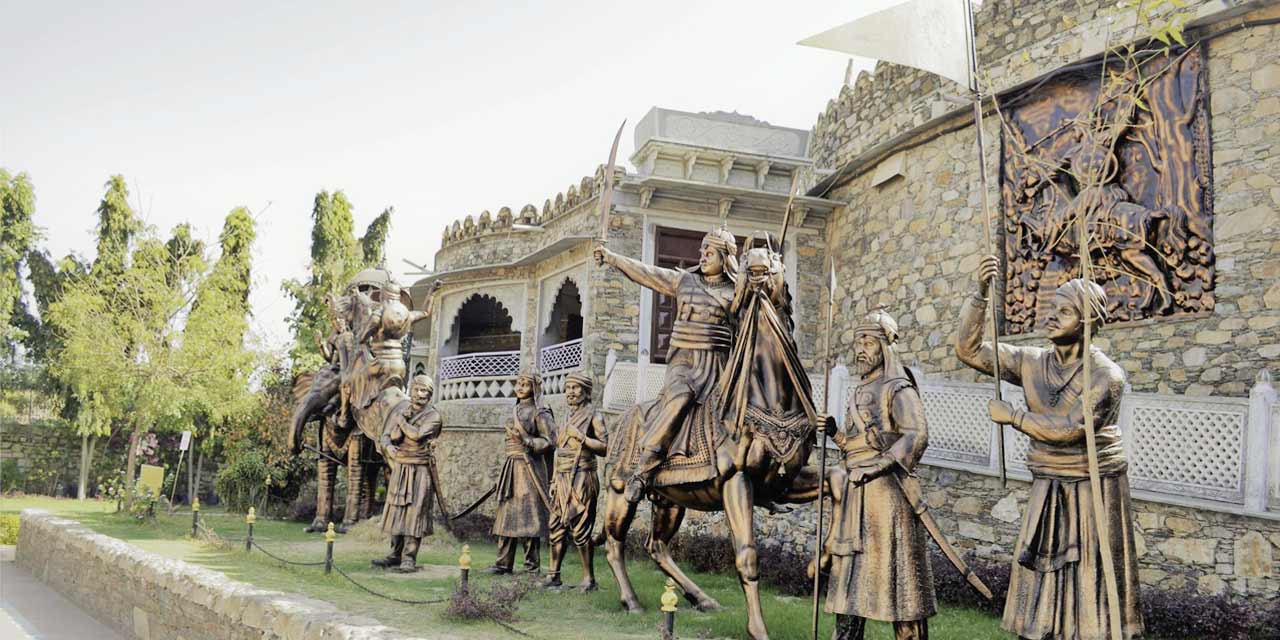 45 kilometres from Udaipur, this museum tells the story of the battle of Haldighati between the Rajput warrior Maharana Pratap and the Mughals (led by Maan Singh I on behalf of emperor Akbar) which was fought in the valley of Haldighati in 1576. The museum is built at a distance from the actual location of Haldighati.
The museum displays several paintings, murals and bronze statues which depict scenes from the bloody battle. There are also specimens of swords and armours, carefully preserved for all to see.
Haldighati Museum runs a short film which tells the story of Maharana Pratap, his faithful mount – Chetak, and the battle of Haldighati. The museum complex also has a garden behind it, and a cafeteria which serves full meals as well. The museum is open from 8 AM to 7 PM and costs NR 20 to enter.
More Sightseeing Places in & Around Udaipur
Apart from the most famous attractions in Udaipur, there are several others which may not be as popular but are still worth a visit.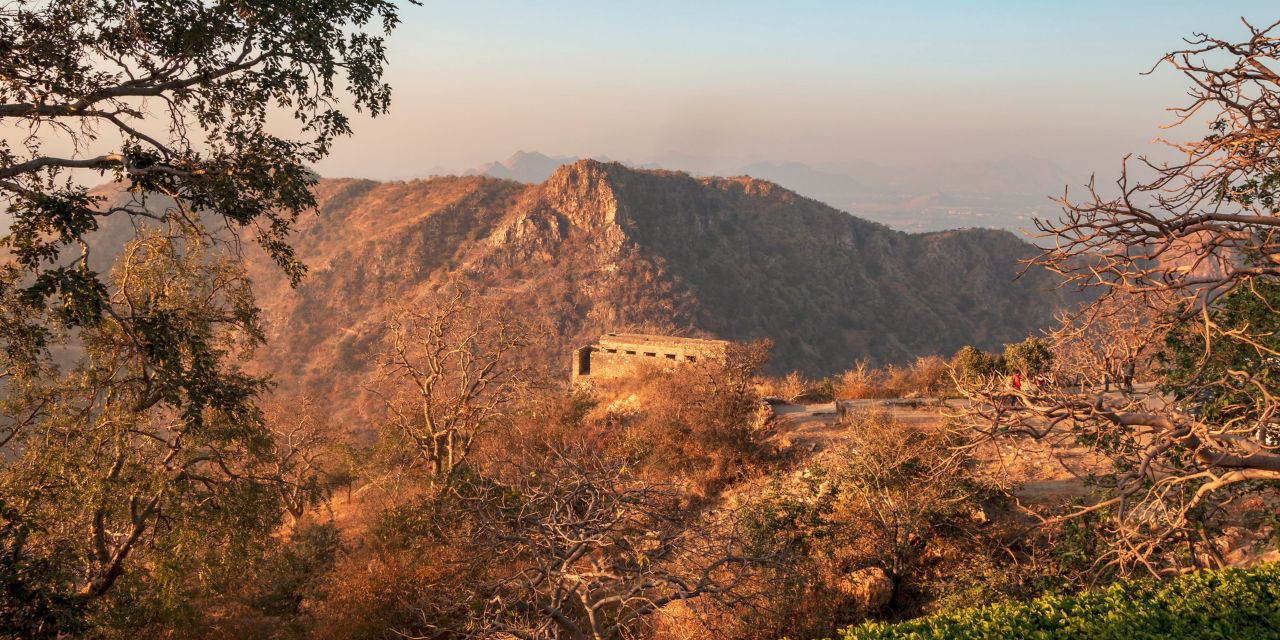 Located next to the towering Sajjangarh Fort and Palace, this wildlife sanctuary and biological park makes it possible to sight tigers, panthers, jackals, wild boars, hyenas, reptiles, deer and nilgai. One can hire a golf car or an electric car for INR 50 to quickly tour the premises.
Spread over 5.19 square kilometres, Sajjangarh Wildlife Sanctuary and Biological Park stays open to visitors from 9 AM to 4:30 PM. It is closed on Tuesdays. Entry tickets for adults is priced at INR 30 and you pay an extra INR 80 for your camera. Foreigners are charged INR 300.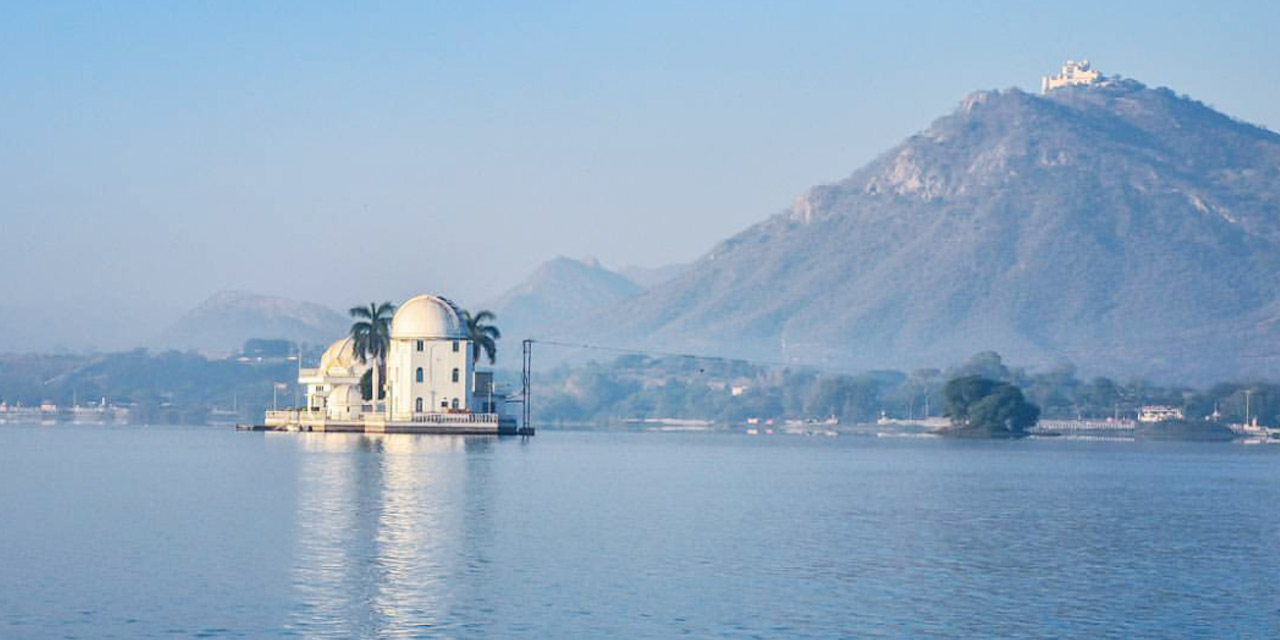 One needs special permission to visit the USO (Udaipur Solar Observatory) as it is not open to the general public. One can still watch the domed structures floating on Lake Fatehsagar. This is one of only 3 observatories in the world, the other two being in Spain and Australia.
Solar observatories are different from regular observatories that study the night sky while here the sky is studied during the day. There are several telescopes at the USO that let one observe certain effects pertaining to the sun such as spots in the sun, the occurrence of solar active regions and solar flares.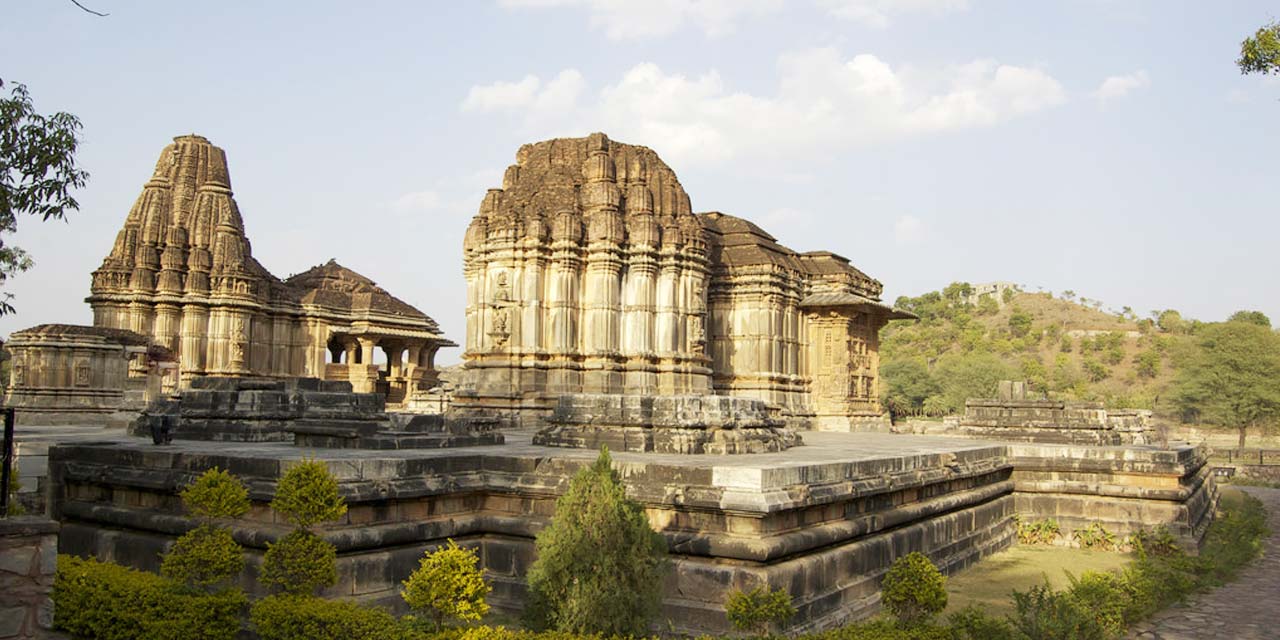 Built in the 8th century A.D., Eklingji Temple is dedicated to the Hindu deity of Eklingji, another moniker for the well recognized name – Shiva. The black stone statue of Eklingji at this shrine is 50 feet tall has 4 heads, each denoting a form of Shiva. The 4 forms here are Surya, Brahma, Vishnu and Rudra. There are also statues of Shiva's wife (Parvati) and his 2 sons – Kartik and Ganesha.
At the entrance of the temple, there is a statue of the Hindu bull deity – Nandi. According to mythology, Nandi guards the gate to Mount Kailash (the abode of Shiva).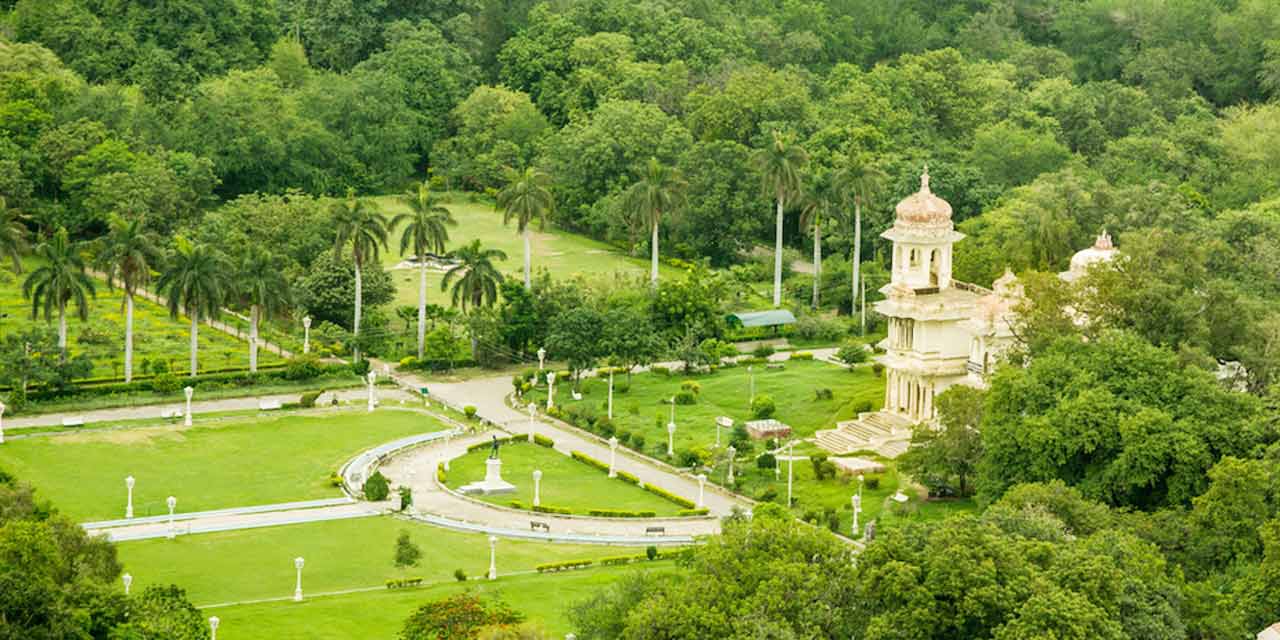 Gulab Bagh is a lush garden open at all times of the day. A favourite of morning walkers, this garden lets one look at a variety of roses, true to its name which means 'Rose Garden'. There is a library inside this neatly manicured park and also a toy train for little children to enjoy.
This is the largest park in Udaipur and also has an open gym, suitable for all ages. There is also a zoo inside with the same name where one can see multiple birds, apart from lions, bears and deer. The Gulab Bagh Zoo happens to be one of the oldest zoos in India.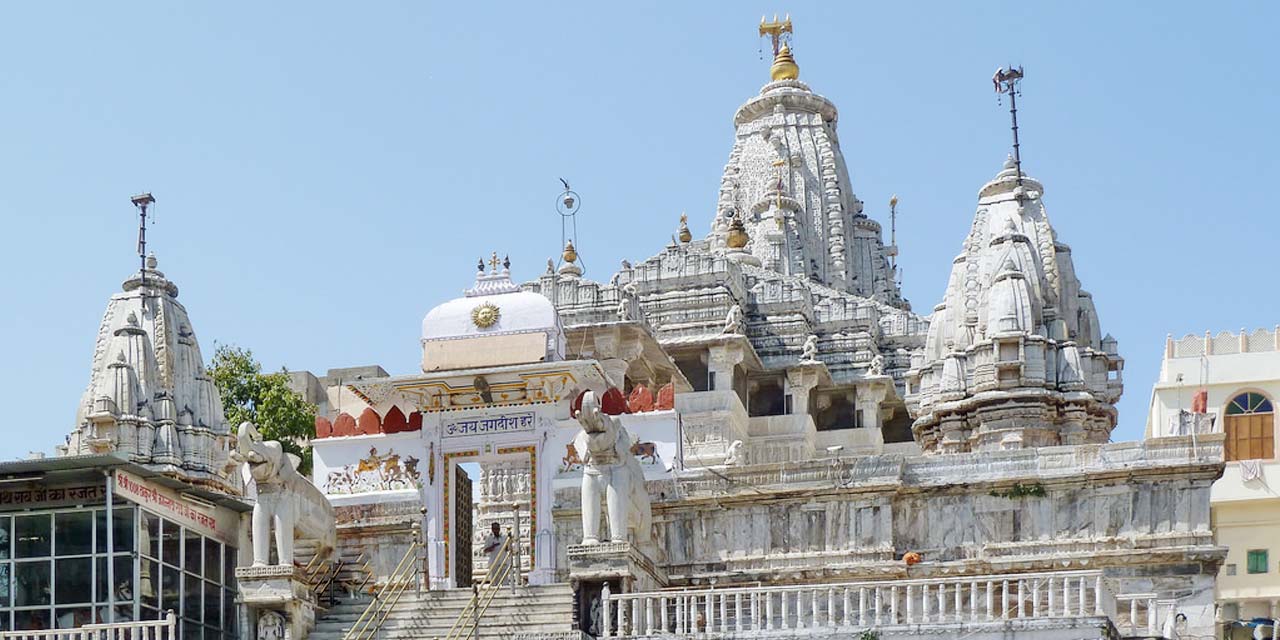 Previously known as Jagannath Rai, this temple was built in honour of the Hindu god – Vishnu. The construction of this temple began in 1651, commissioned by the reigning king of Mewar – Maharana Jagat Singh. Located in the old city of Udaipur, Jagdish Temple showcases Indo-Aryan architecture.
There are several notable features of this temple – intricately carved ceilings, pillars with designs on them, colourful walls and a grand entrance. A statue of the mythical half-bird-half-man creature named Garuda is seen in front of this temple. It is said that Garuda guards the abode of Lord Vishnu. The temple is open from 4:15 AM to 1 PM and 5:15 AM to 8 PM.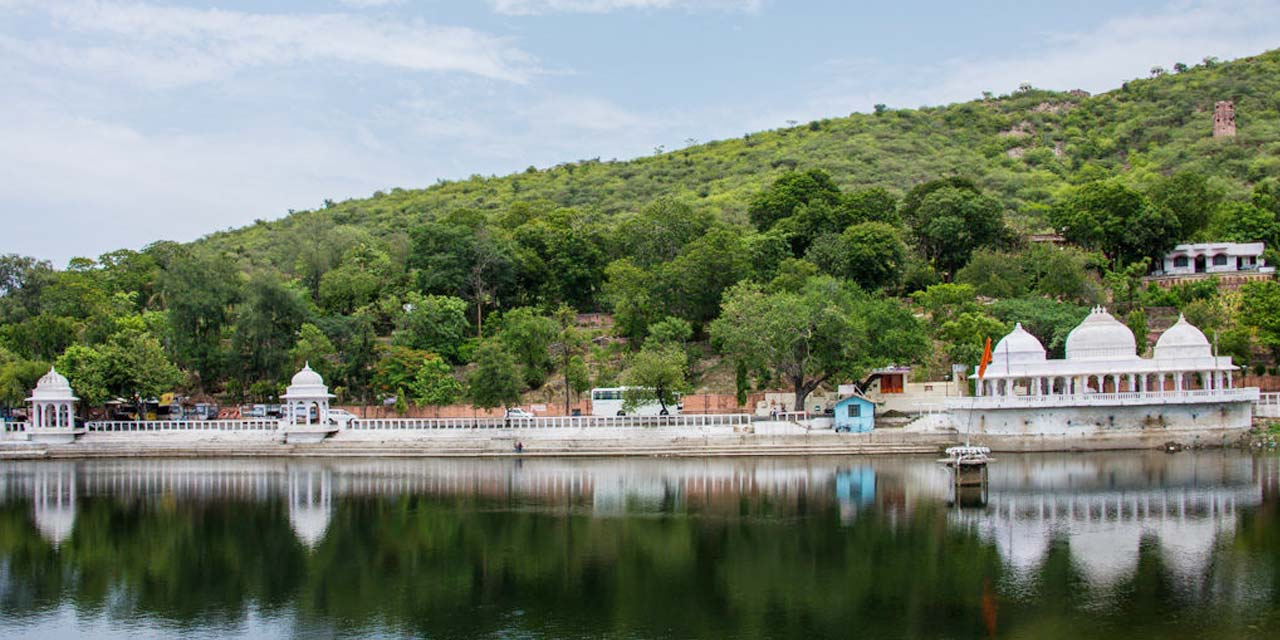 Also known as Pandit Deendayal Upadhyay Park, Doodh Talai is essentially a rock garden. This is also the starting point of the cable car ride to Machla Magra hill on which the Karni Mata temple is located. You pay only INR 10 to enter this musical garden which opens at 8 AM and closes at 10 PM. For the special musical fountain show, visit in the evening between 6 PM and 8 PM. For those who love sunsets, Doodh Talai Musical Garden is the ideal place to watch the sun set, especially as you have a nice view of Lake Pichola and its islands from here.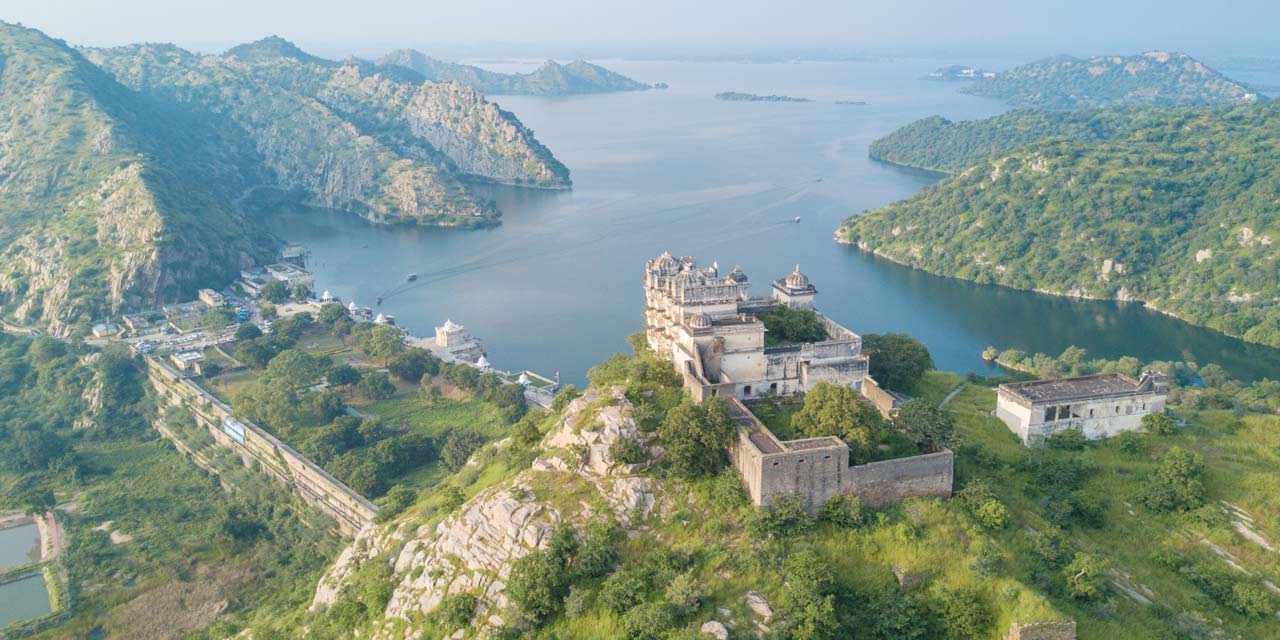 Built in the 17th century A.D. by Rana Jai Singh, Jaisamand Lake happens to be the second largest artificial lake in India after Govind Ballabh Pant Sagar which is in Uttar Pradesh. Also known as Dhebar Lake, it spans 87 square kilometres. Fed by the River Gomati, Jaisamand Lake started receiving its waters when the reigning king of Mewar built a marble dam on it in 1685. There are 3 islands on this lake, one of which houses the winter palace of the erstwhile kings – the Hawa Mahal Palace. The dam has steps that lead to the waters of the lake.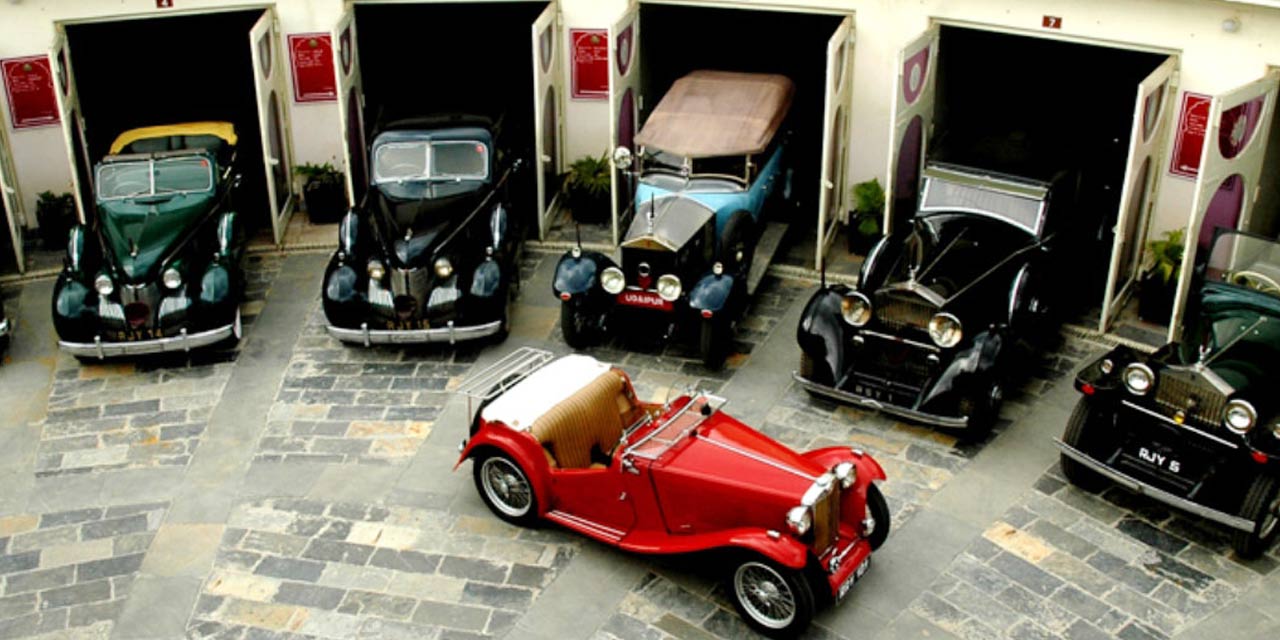 Owned by the hotelier Arvind Singh Mewar, the Vintage and Classic Car Museum in Udaipur opened its doors to the general public in the millennial year of 2000. The museum showcases cars owned by Mewar's Maharanas who still live, and also those who have previously reigned. Some of these cars are almost 70 years old but they are maintained to still be useable.
Inside the museum, one can also see a Shell petrol pump from the yesteryears. Apart from antique cars and luxury cars owned by today's Maharanas, the museum has solar powered auto-rickshaws and some other specimen. Open from 9 AM to 9 PM, INR 250 is charged as the entry fee.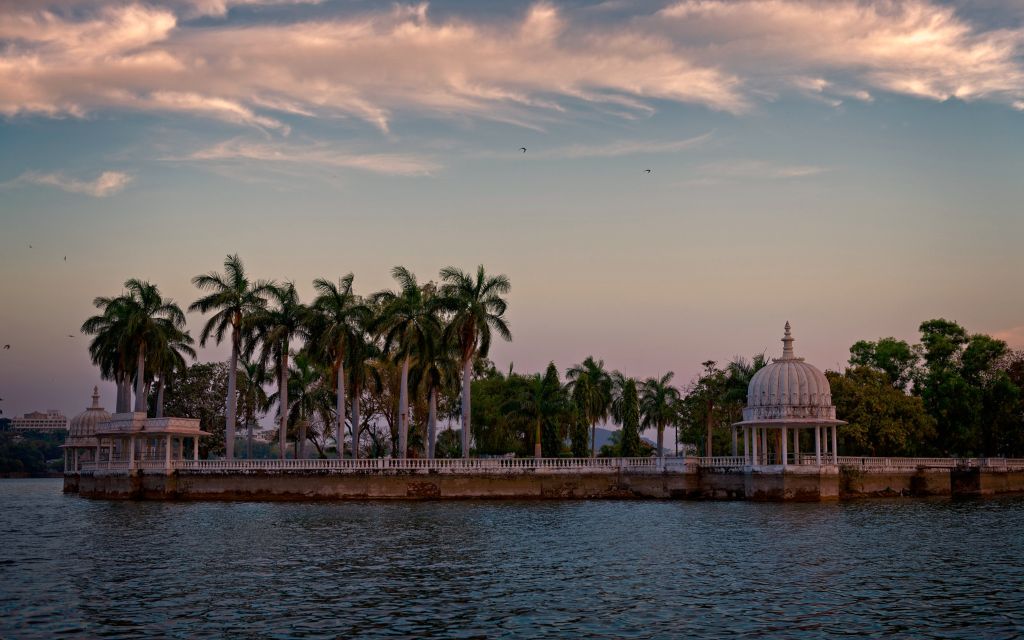 Located on Lake Fatehsagar, Nehru Garden was built to honour India's first Prime Minister – Pandit Jawahar Lal Nehru. Spanning 4.5 acres, the park has been open to the public since 1967. If you get hungry while exploring the Nehru Garden, head to the food court which is shaped as a boat. In the evenings, you can enjoy the lights and the fountains that operate at the park. Open from 9 AM to 5 PM, entry is free to the garden itself, but you have to pay for the boat ride to this island (INR 400) which gets more expensive in the evenings (INR 700).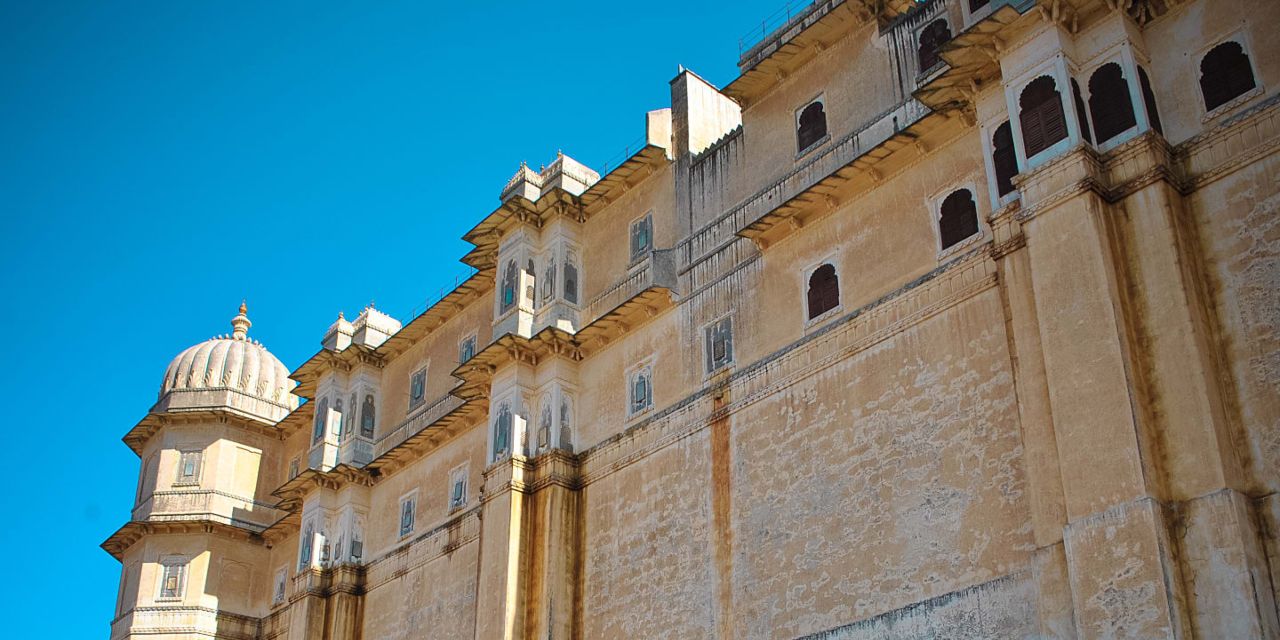 A part of the City Palace, Bada Mahal was built in the 17th century A.D. Also called the Garden Palace, the name literally means 'Big Palace', and was used by the men of the palace to wind down after a long day of work. Sporting Mughal and Rajputana architecture, this palace has several jharokhas which are balconies with ornate designs on them.
Apart from various rooms adorned with cut glass interiors, colourful paintings and pillars, Bada Mahal has a few courtyards and a garden full of flora. The palace is open to visitors on all days from 9:30 AM to 5:30 PM.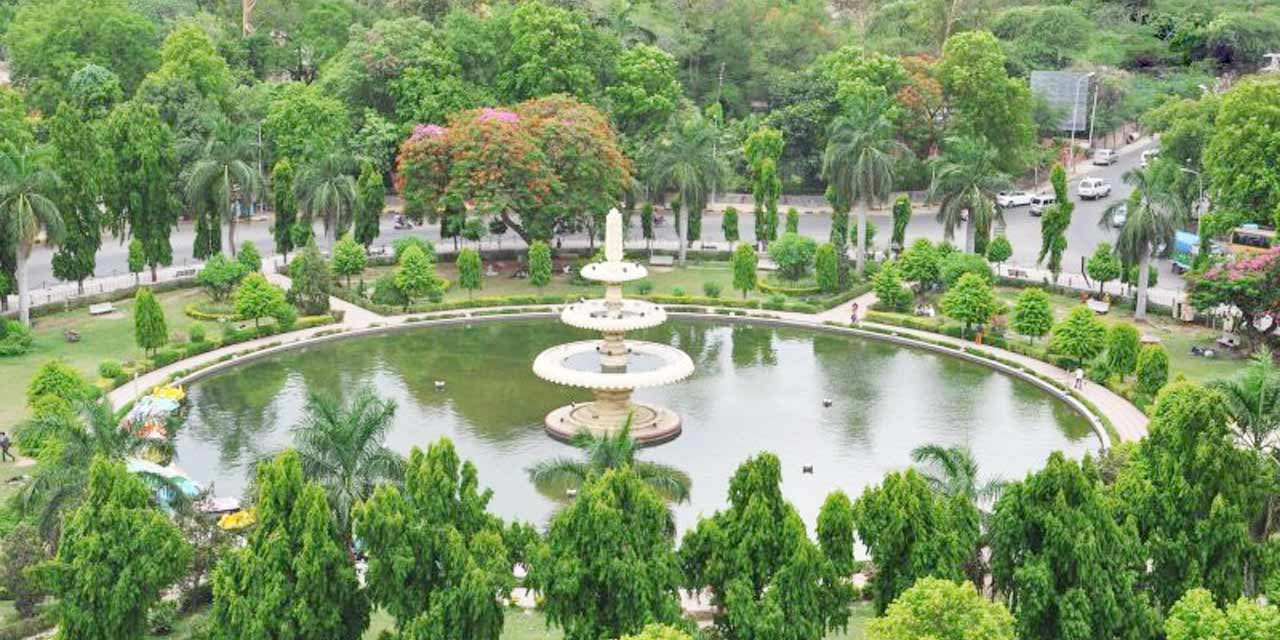 You wouldn't expect roundabouts to be so fascinating, but Sukhadia Circle proves everyone wrong with its three-tiered fountain and the hype around it. The 21-foot tall marble fountain stands in the middle of a pond. You can enjoy boating on this pond. For a single person, paddle boating costs INR 40, whereas it is INR 100 for a 2-seater boat and INR 200 for a 4-seater boat.
There are also several activities you can participate in outside the water. Horse rides and camel rides are offered, which let you circle around the pond. The neighbourhood is quite green and friendly, full of food stalls you can eat at, and parks you can hang out in.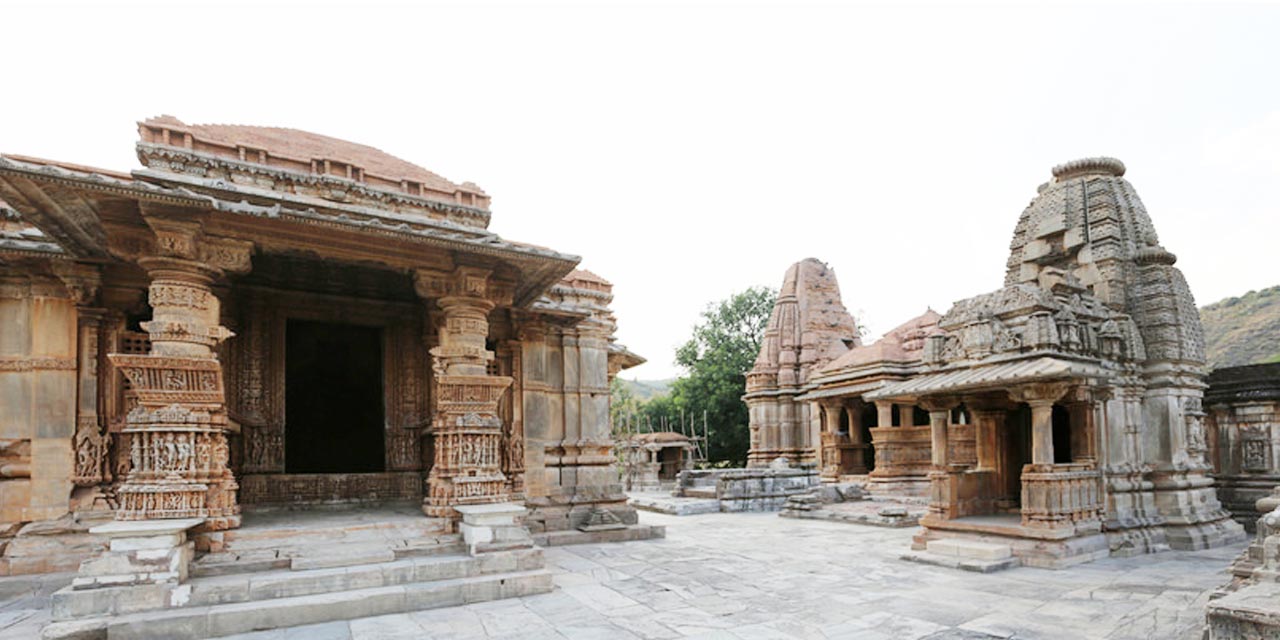 20 kilometres from Udiapur, the twin temples of Sahastra Bahu in Nagda are dedicated to the Hindu deity of Vishnu. The temples were built in the 10th century A.D. The name literally translates to 'a thousand arms', denoting the mythological strength of Vishnu. Even though these temples are actually ruins, the intricate carvings on the pillars, the ornate roofs and the steps that lead to the shrines give an insight into traditional Rajasthani architecture.
The temples are maintained by ASI (Archaeological Survey of India) now. The village of Nagda itself is quite unique for its white marble roads. You can visit here from 4 AM to noon and 4 PM to 9 PM any day.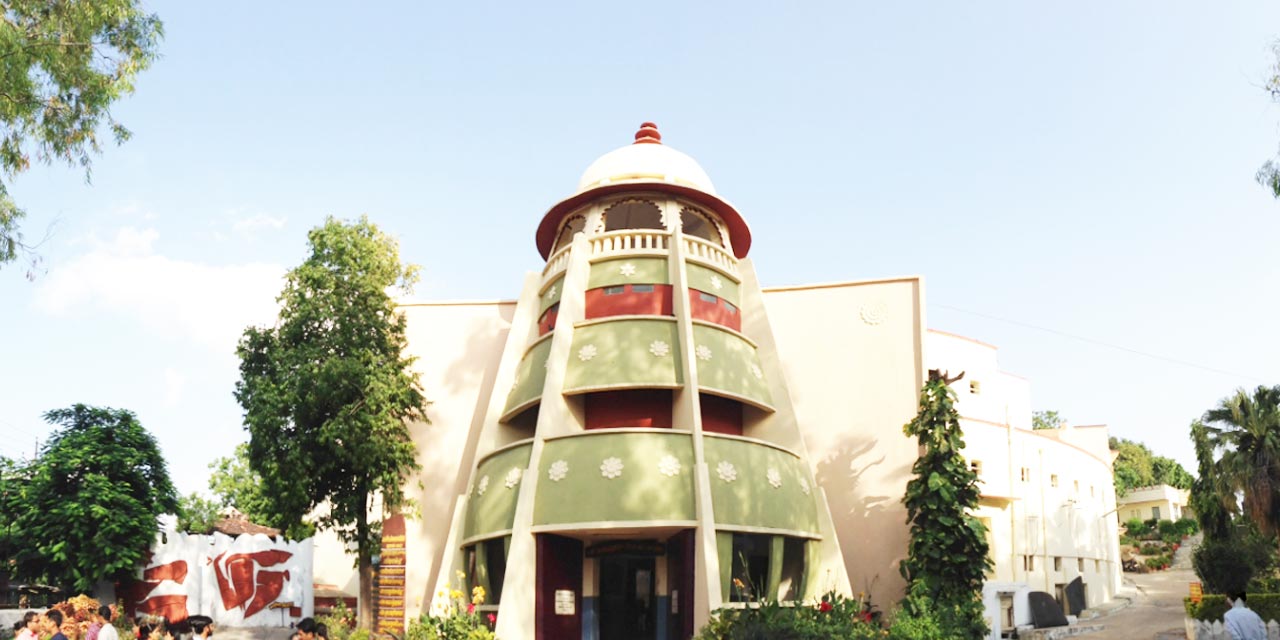 Established by Mihir Chaudhury in 1952, this cultural museum showcases folk art, literature, music, festivals and culture of the states of Rajasthan, Gujarat and Madhya Pradesh. Among the exhibits are wall sculptures of deities from the Hindu mythology, earthenware, paintings, puppets, masks, traditional attire, ornaments, musical instruments and henna tattoo designs.
The museum is open on all days from 9 AM to 6 PM. The entry fee is INR 20 for adults and INR 35 for foreigners. To enter the special Folklore Museum and watch the puppet show, you pay another 25 rupees. For the folk dance performance along with the special puppet show, the fee is INR 40.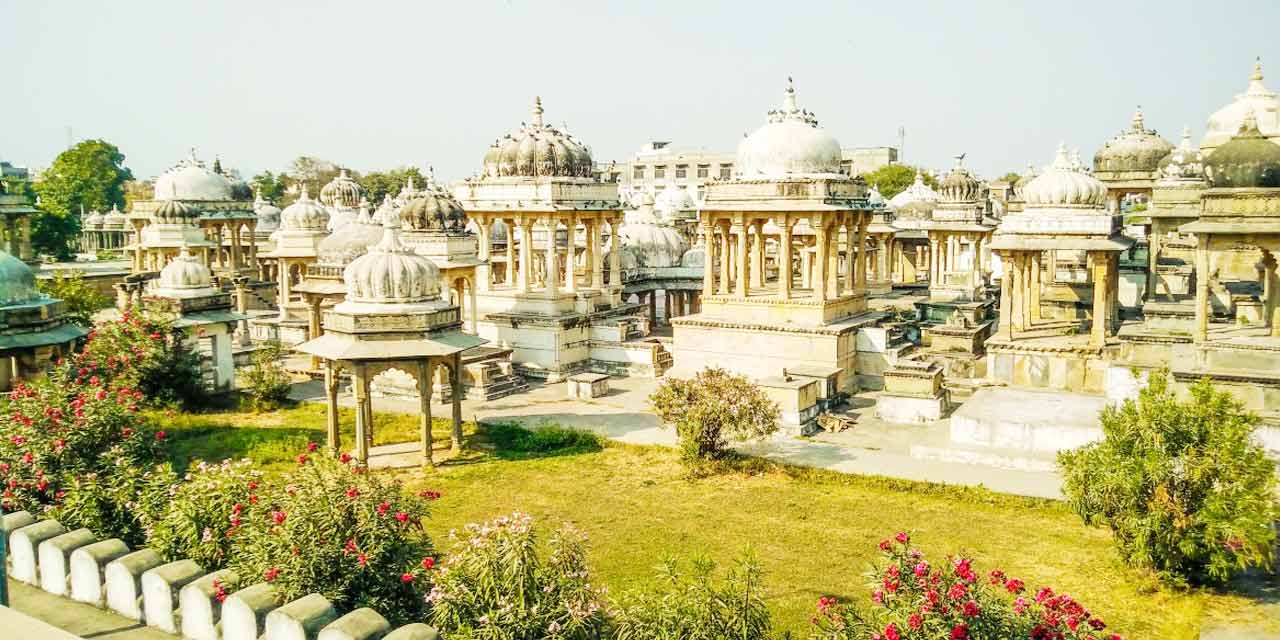 Located about 2 kilometres from Udaipur, the village of Ahar has over 250 cenotaphs in honour of the maharajas of Mewar. The Ahar Cenotaphs are also known as Mahasatis. In most cases, the remains of the maharajas are elsewhere, but 19 of the maharajas have been cremated here. Special dome-shaped chhatris have been erected to identify them. All of these cenotaphs were constructed throughout a period of 350 years.
Apart from the cenotaphs, one can also visit the Ahar Archaeological Museum which exhibits antiques which have been discovered through excavations. Interesting items such as terracotta toys, stone weights with animals figures, earthen pottery, seals, metal idols, etc. can be found at the museum.
Shopping in Udaipur
Udaipur offers many of Rajasthan's popular items for travellers to buy. The typical Rajasthani items to take as souvenirs include puppets, Rajasthani cloth dolls, wall hangings and other handicrafts.
For those who like traditional Rajasthani art which depicts villages and women at work in their customary attire, you can not only buy paintings but also coasters and glass showpieces with similar kind of artwork on them.
Rajasthani handbags, leather-ware, jootis (traditional shoes), kurtas and accessories such as bangles and earrings are very popular with the ladies. Keep an eye out for bangles made of lac, especially at fetes where they let you pick your colours and customize the design for you.
Bed sheets, bed covers, cushion covers, table cloths and blankets are other interesting things to buy here, especially for their quality and creative designs on them. Check out the shopping hangouts of Hathi Pol where the winding narrow lanes have tiny shops displaying paintings, leather handbags and more. Haat Bazaar at the cultural village of Shilpgram is another popular place for shopping.
Eating in Udaipur
Udaipur knows how to serve up both street food and sit-down meals with ease. Whether you are vegetarian or prefer red meat, there's something that Rajasthani cuisine has for you. The top favourites here are kachoris, a deep fried snack which is often served with dal (lentil curry), and laal maas (lamb prepared in a spicy curry).
Rajasthani thalis (platters) typically have some salad, pickles, papad, rotis (a type of flatbread) made of bajra (millet) or jowar (sorghum), some dry vegetable preparations of local produce such as turmeric root, French beans, gathiya (sticks made of chickpea flour) and papad, and halwa (a type of dessert made of powdered semolina).
Sometimes, you may be served dal-baati-churma which is basically a ball made of wheat flour and served with lentil soup and a sweet powder. The Rajasthanis love to cook their food in ghee and also add dollops of it while serving the food.
How to Reach Udaipur
Udaipur is well connected by air, railways and roadways. Here is some essential information for you to plan your trip to this city:
Flights: Udaipur's Dabok Airport services domestic flights to Mumbai, Delhi and Rajasthani cities like Jodhpur and Jaipur. Since the airport is 25 km from the city centre, you will have to hire a car or rickshaw to reach your hotel.
Trains: Udaipur City Railway Station connects this city to various parts of the country. There are over 50 trains that halt at this station, making it possible to take a train from here to most of the other cities.
Buses: Long distance buses can get you to Udaipur from Ahmedabad, Jaipur, Mumbai and a few other cities. The City of Lakes is on the National Highway 8 and 48, hence well connected.
Car: If you are arriving from other Rajasthani cities, you can also drive here. State Highways are present throughout Rajasthan, making it convenient to get to Udaipur from Chittorgarh, Jodhpur and nearby places.
Udaipur is 400 km from Jaipur, 250 km from Jodhpur, 500 km from Jaisalmer, 750 km from Mumbai and 660 km from Delhi.