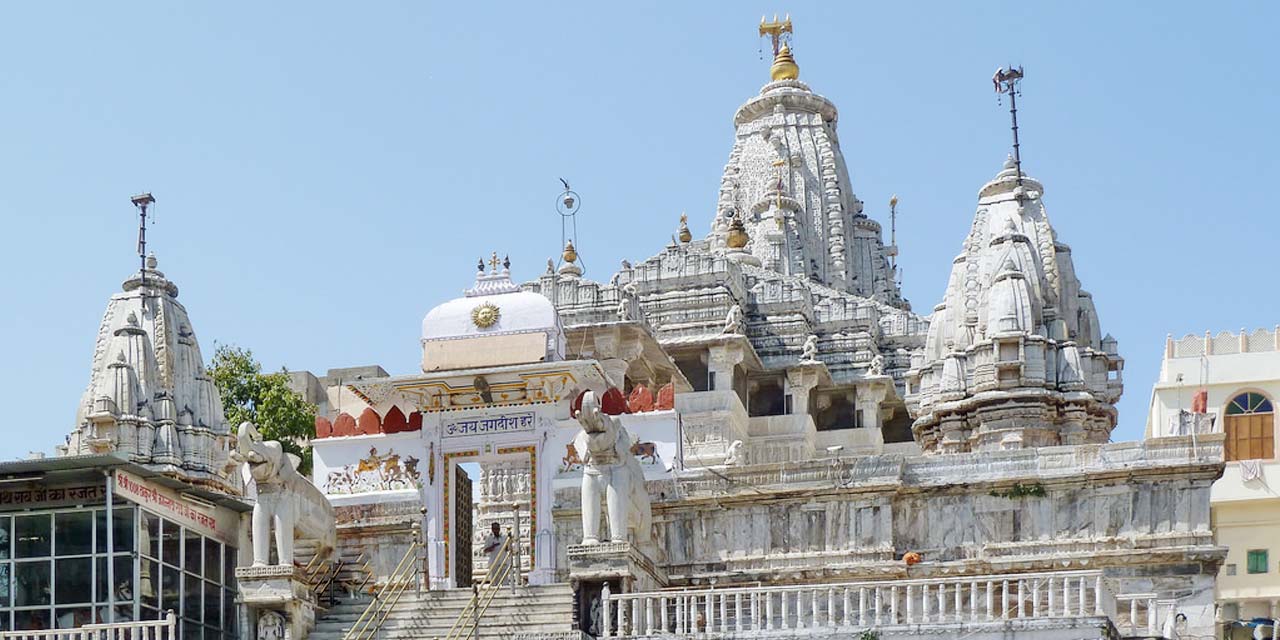 Jagdish Temple Udaipur Entry Fee
Jagdish Temple Udaipur Phone
---
Rating:
| 4/5 stars
Based on total 75 reviews
Jagdish Temple Udaipur Address: RJ State Highway 50, Udaipur, Rajasthan, 313001, India
Udaipur Tour Packages
Jagdish Temple Udaipur Timings
Day
Timing
Monday
4:15 am – 1:00 pm
5:15 pm – 8:00 pm
Tuesday
4:15 am – 1:00 pm
5:15 pm – 8:00 pm
Wedesday
4:15 am – 1:00 pm
5:15 pm – 8:00 pm
Thursday
4:15 am – 1:00 pm
5:15 pm – 8:00 pm
Friday
4:15 am – 1:00 pm
5:15 pm – 8:00 pm
Saturday
4:15 am – 1:00 pm
5:15 pm – 8:00 pm
Sunday
4:15 am – 1:00 pm
5:15 pm – 8:00 pm
Links:
Website
|
Map
Jagdish Temple Udaipur Aarti Timings
| | |
| --- | --- |
| Aarti | Timings |
| Mangla Aarti | 4:30 am to 5:00 am |
| Dhoop Aarti | 7:45 am to 9:00 am |
| Shringar Aarti | 10:15 am to 11:00 am |
| Rajbhog Aarti | 11:30 pm to 12:00 pm |
| Gwal Aarti | 5:30 pm to 6:00 pm |
| Sandhya Aarti | 6:30 pm to 7:45 pm |
| Shayan Aarti | 8:15 pm to 8:45 pm |
---
"Buildings are not just brick and mortar bind together; buildings are a storehouse of several stories, mysteries, and histories of every person associated with it. These stories have lessons to teach, smiles to spread, and an emotion which connects past from the present."
Udaipur, located in the heart of Rajasthan, is a historical city reflecting rich cultural background and importance of religion in every aspect. We at Udaipur Tourism, a division of Holidays DNA, makes it possible for you to explore this aspect of the city in the best possible manner.
You can find several temples of Lord Shiva and Lord Vishnu. The Eklingji temple is one of the most prestigious temples of Lord Shiva. Similarly, Jagdish temple is one of the largest temples of Lord Vishnu. It is one of the most popular places to visit in Udaipur. Jagdish temple was earlier known as the temple of Jagannath Rai, one of 1000 names of God Vishnu. The temple has become a significant monument in the past few decades due to its unique location, beauty, and history associated with it.
Location of Jagdish temple
Situated right in the middle of Udaipur, Jagdish temple is a big tourist attraction in the Old City of Udaipur. Standing firm and robust, the Jagdish temple can be sighted at a distance of 150 meters away from the city palace's Bara Pol.
Image Gallery of Jagdish Temple Udaipur
Architecture of Jagdish temple
Jagdish temple is one of the best architectural wonders of the Mewar dynasty. Jagdish temple showcases the Indo- Aryan architectural style. The temple is built keeping the rules of Vastushastra, the Hindu architectural science in mind.
This three-storied temple is built on raised platform flaunting magnificently carved pillars, huge airy halls and painted walls that are adorned with vibrant colors and intricately decorated ceilings. At the entrance, there are two massive elephants statues of stone, installed to welcome the visitors. An inscription engraved on the stone slab is found at the entry. Mahara Jagat Singh installed the inscription to record his contributions to the temple.
The main temple is 79 feet high, and it prominently controls the city's skyline. The summit of the main temple is adorned with the statues of horsemen, elephants, musicians, and dancers who were practicing during the time when temple was established. The main temple is 32 steps away from the entrance. Here you get to see a brass image of Garuda, a half man, and half eagle figure. Garuda has a noteworthy significance in the Hindu religion,, as it is considered that Garuda guards the gates of Lord Vishnu's house.
The next idol found in the main shrine is a four-armed image of Lord Vishu, which is considered as one of the most striking features of Jagdish temple. The statue of God Jagannath is a treat to watch since it is carved out from one piece of black stone, making it a marvelous piece of art and devotion. It is believed that the statue of Lord Vishnu tends to have a hypnotic effect on the devotees and bring a sense of calmness and serenity.
As said, God is a peacemaker, so whenever in doubt go to him, and he will help you out. People from all around the world visit Jagdish temple to get answers to their problems. The main temple is surrounded by small shrines of other God and Goddesses. The temples belong to Lord Ganesha, Lord Shiva, Sun Goad, and Goddess Shakti.
The first two floors of the building have 50 pillars each. Each pillar has intricate carvings making it an astonishing sight. The mandap (prayer hall), a porch and a pyramidal spire add to the beauty of the temple.
History of Jagdish temple
The temple was built in 1651 under the reign of Maharana Jagat Singh who ruled Udaipur from 1628 to 1653. Jagdish Temple is the home of Lord Vishnu and an iconic example of Maru-Gujaru architecture of the era. The Maharana Jagat Singh spent 1.5 million rupees to enhance the structure of the Jagdish temple. The temple was renovated due to Mughal invasion.
The Mughal invaders have destroyed many figurines and carvings in the temple as a part of revenge upon Rajput rulers. The Mughals took to vandalism to take out their anger and frustrations on their defeat by the hands of Mewar rulers.
According to the old legends, it is believed that the marble slab in the Jagdish temple has magical powers. If you rub your shoulder, knees, or back on the marble, you can get a quick relief against the pain. For some people, it might be hard to believe, but the beliefs associated with religion cannot be questioned.
How to reach Jagdish Temple
Udaipur is a well-developed and well-linked city in Rajasthan. Being a tourist destination, it is not at all challenging to reach the Jagdish temple. The temple is located in the City center complex, which is near to the bus station, railway station, and airport. Below mentioned are a few ways to reach Udaipur:
Personal transport like a car or a bike- The road trips add a new thrill and excitement to your vacation. Udaipur has a very well connected road network offering you an excellent opportunity to go on a ride or drive and spend a few extra hours with your near and dear ones.
Public transport like buses or taxis- The shared taxis or buses can be a fun opportunity to meet and greet new people and make some new friends. You can spend time talking and knowing different people, which could be both inspiring and enlightening. The transport corporation of Rajasthan, Uttar Pradesh, Gujarat, and Madhya Pradesh runs buses to Udaipur which is both safe and affordable.
Railways- The Jagdish temple is located 3 km away from the Malvi station in Nathdwara district. You can find a direct train to Udaipur from Delhi, Jaipur, Chittaur, Ajmer, Ahmedabad, and Jodhpur.
Airport- Dabok Airport is just 15 to 20 minutes away from the Jagdish Temple. Once you have deboarded, you can hire a cab and reach the temple quickly.
For commuting within the city of Jaipur, you can also hire a private taxi. We at Udaipur Tourism, have listed the top car rental companies in Udaipur, which offer a safe and hassle free travel to various sightseeing places in Udaipur.
Entry fees and timings of Jagdish temple
Jagdish temple is a significant temple and monument which is open to all. There is no ticket levied on the entry of the temple. You can visit the temple any day as it is open on all the seven days of the week, you will never be away from God.
Coming to the timings of Jagdish temple, the temple doors open in two shifts.The first shift begins at 4:15 early in the morning till 1 in the afternoon. The second shift starts from 5:15 PM early evening till 8 PM in the late evening.
Things to do at Jagdish temple
Since it is a temple with exotic architecture, you should observe every nook and corner of the temple. You can hire a tourist guide to seek more information about the carving on the pillars, painting found on the temple walls and the stories behind 50 pillars.
You can also get a brief insight into the history of Mewar dynasty by understanding the significance of various installations like Mandap, Samavarnas, and Sandharas.
You can make a small offering to Lord Vishnu in the form of garlands and sweets that can be bought from the shops/hawkers -near the temple. It is optional to make an offering.
Places to visit near Jagdish temple
If you are a history enthusiast, the area is a real gold mine for you.
The City Palace complex where the temple is located is filled with some eye-pleasing sights such as the Lake Palace and Lake Garden Palace situated right in the middle of Lake Pichola, a famous lake of Udaipur.
Alternatively, you can visit the famous Bagore Ki Haveli, Peacock courtyard, and Mohan Mandir.
You can shop for some Rajasthani cultural gifts or souvenirs from nearby shops.
You can go for boating in Lake Pichola.
Best Time to visit Jagdish temple
The best time to visit Jagdish temple is the winter season, i.e., November, December, January, and February as well. At this time, the cold and pleasant weather eases the occasional tiredness of sight-seeing around the temple as well as the city.
The temple is a marvelous site to visit during festivals as it is decorated with lights to enhance its pomp and show. The annual car festival in the month of July should never be missed. The festival coincides with the yearly rath yatra or the car festival of Puri Jagannath or Lord Vishnu.
Things to keep in mind while visiting Jagdish Temple
The Jagdish Temple is a tourist place fetching innumerable people which makes the place crowded and compact, so it is easy to get lost or lose your valuables. Therefore, make sure you keep an eye on your kids and avoid carrying any valuable from a safety point of view.
Always wear a comfortable pair of shoes to prevent any pain in your feet. Even though you leave your footwear outside the temple, you can save yourself from any trouble while visiting other places nearby. Walking on the streets while sight-seeing is always advisable as it can bring an emotional touch and add more value to your experience.
If you are seeking for more than just a sightseeing experience, then choose one of our All-inclusive Udaipur tour packages. With our packages you can explore the city in absolutely enjoyable tour, which will be dotted with enviable list of services and facilities. To know more about these packages, reach us by filling the Contact Us form.
Location Map for Jagdish Temple Udaipur