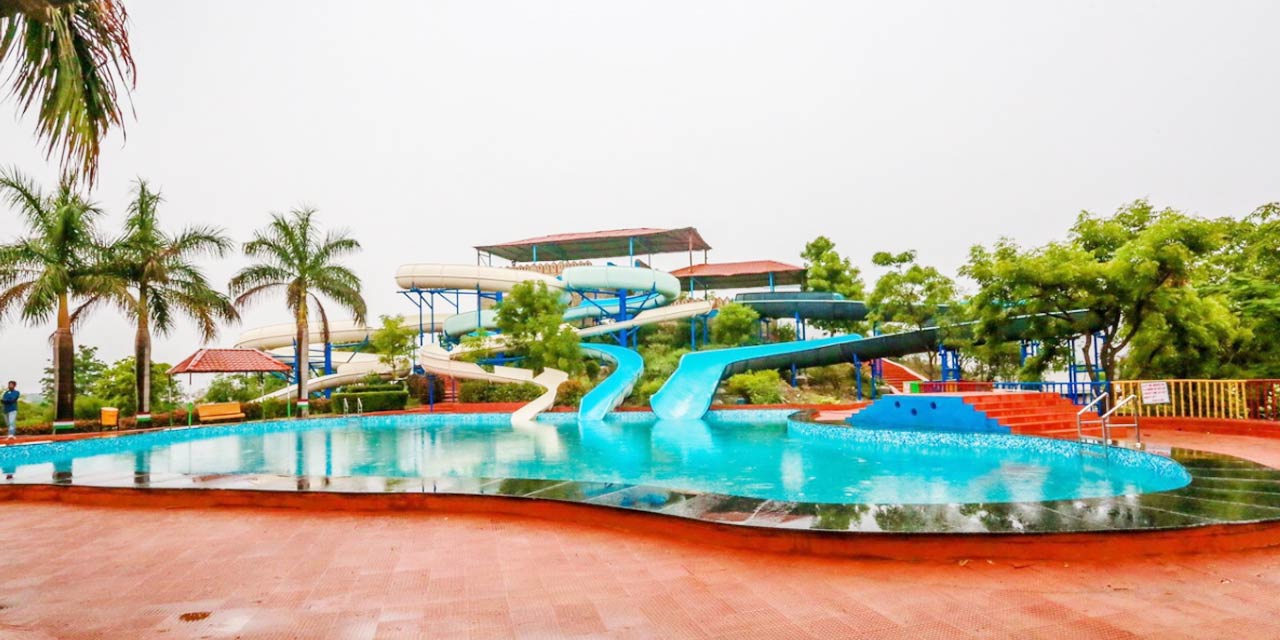 Marvel Water Park Udaipur Entry Fee
600 per person for Adult
300 per person for Children
( Below 4ft. Height )
100 per person for Costume
100 for Basic Locker
200 for Big Locker
Marvel Water Park Udaipur Phone
---
Rating:
| 4/5 stars
Based on total 70 reviews
Marvel Water Park Udaipur Address: NH 8, Goverdhan Vilas, Sector 14, Saras Parlor, Sajjan Nagar, Udaipur, Rajasthan, 313001, India
---
In the ever-changing times, everyone is engrossed with something or other. We all are continually struggling in our lives due to which many among us tend to miss out on the precious moments of our lives. If you are a parent, you are shouldered with much more responsibility than any other individual. Battista once said, "The best form of inheritance ever received by a child from his or her parent is the few minutes of their time."
It is essential to spend time with your kids, and the best way is to plan a one-day trip to any kids-friendly place. If you are located in Udaipur, you are lucky to find a fantastic place like Marvel Water Park.
Marvel Water Park is the first amusement water park found in Udaipur. It is one of its kinds in Udaipur surrounded by beauty all around. Situated amidst the cooling shelter of lush green trees, this water park is frequented by tourists from all across the world and locals.
The Marvel water park is a perfect one-day getaway as this place offers unimaginable and unmatchable excitement and thrill for both parents and kids. The water slides, simulated rain dance, and dry slides here give you the experience to cherish for life.
Apart from the slides, there is an exclusive dining area serving authentic food. If not dining, you can visit food stalls found in the park and grab some fantastic delicacies to appease your taste buds like never before. It is a fun-filled and pleasant park that will let you enjoy to the core and relax in the water while you beat the scorching heat of the sun. It is an ideal place to take away a few happening moments from your busy schedule and spend some fun time with your near and dear ones.
Udaipur is a historic land of rich culture and tradition which can be found in every aspect of the city. The holiday feels of Udaipur is not restricted to its monuments, gardens, and lakes. The city offers an exclusive range of things to do and places to visit for every kind of travel buff. We at Udaipur Tourism, a division of Holidays DNA offer several Udaipur tour packages to facilitate your vacation in every possible manner.
Location of Marvel Water Park
Located in the Sajjan Nagar region of Udaipur in the Goverdhan Villas, Marvel Water Park is a stunning place offering a memorable experience through their water slides, musical background and exotic greenery away from the hectic life.
How to reach Marvel Water Park
The Marvel Water Park is near significant locations and can be reached easily.
Airport- From the Maharana Pratap Airport, the park is found at a distance of 28.7 km, which can be quickly covered in 50 minutes by hiring any private cab or a bus.
Railway Station- From the Udaipur station, Marvel water park is located at a close distance of 4km which can be easily covered in 10 minutes by taking a cab or a local bus. It is also connected to the Mavli Railway Station which is 36.8 km away. You can cover that distance in 1 hour 15 minutes via car or hired taxi. There is another railway station named Ranapratapnagar Railway Station it is at 6.2 km that can be covered in 15 minutes via a cab.
Public Transport- Marvel Water Park in Udaipur can be reached via government-run buses. The transport corporation of Rajasthan, Madhya Pradesh, Uttar Pradesh, and Gujarat government ply buses to and from Udaipur.
There are many deluxe and non-deluxe buses that run day and night at regular intervals. You can also opt for a road trip as the Marvel Water Park is located on National Highway 8. Road trips are the best ways to spend some fun time with friends and family.
Commuting within Udaipur can be a little tiring as you can find more than one way to reach a particular destination. If you are new to the Udaipur city, you may end up looking for an ideal route to reach your destined place and reach nowhere, wasting both money and energy. Hence it is in the best interest to hire a private cab from a reputed place.
Udaipur tourism has a unique list of the top car rental companies in Udaipur curated for every type of traveler. You can refer to the list and find a budget-friendly cab to the place of your choice and enjoy a visit to various sightseeing places in Udaipur in a hassle-free manner.
Image Gallery of Marvel Water Park Udaipur
Entry fees and timings of Marvel Water Park
The entry charge of the Marvel water park is quite reasonable and well in budget. The price of a ticket for an adult and a child (below the height 4ft) is Rs. 400 and Rs. 250 respectively. You can rent a costume for Rs. 50. You can avail personal lockers to store your valuables at Rs. 50 each. The price of parking in the park region is a little expensive.
The Marvel Water Park opens at 10:30 in the morning till 6 in the evening on all days of the week.
Best time to visit Marvel Water Park
The summer months are best suited for visiting the water park. When the heat of the sun is tough to fight, water rides are the best way to beat the scorching heat of the sun as well as enjoy some family time. The Marvel Water Park is less crowded from 12 PM to 3 PM, making it the best hours to visit the park.
Things to do at Marvel Water Park
Spread over 3 lakh square feet of the expansive area the Marvel water park has some of the best rides to be enjoyed. Other than rides, there are many different pools to spend hours playing with water such as Wave pool, Adventure pool, and Activity pool.
There is a stunning Mushroom waterfall which is worth a sight. Talking about Water Park, you cannot miss out on some thrilling yet amazing rides. The pendulum slides, zigzag slides, capsule slides, dry landing splash slides, and colorful 12 mega slides for adults are worth a try. There is a separate 10,000 square feet kid's pool which has 12 slides.
There is a garden available for holding functions and parties. While in the park if you get tired, then there is a seating arrangement in the shade. With the best facilities and courteous staff, the experience in the park will amaze you and let you have a gala time there.
More about the Rides at Marvel Water Park
You can come across rides suitable for each and every group, whether it a four-year-old or a 40-year-old, you don't have to compromise on the fun in any manner.
· Goofers Lagoo- Goofers Lagoon is one of the fantastic attractions in Udaipur for toddlers. There is a multi-purpose water play section available in an inverted umbrella or mushroom-shaped.
· Soakers- Soakers is a fun-family ride offering once in a lifetime experience. The rider will be exhilarated to ride through a full lane and a steep drop is real adrenaline rusher.
· Kids Splash Pool- This is a colorful splash pool for both kids and adults, offering top-notch fun.
· Yell-O!- This ride provides an experience similar to its name. The epic line of twists and turns at a super high speed will make you yell your heart out with joy.
· Zip Zap Zoom- This is a two in one high-speed ride with two lanes, surf, and slide. This slide lands the rider down the serpentine and splash pool alongside one another.
The more kid-specific range of rides is mentioned below. These slides range run on quite low speed and land into shallower pools.
· Sky slide- This blue lady sky ride will fill you with excitement and give you a next-level experience of fun.
· Aqua Splash Pool- Aqua Splash is one of the most exciting water slides with various steep bumps and turns across its way.
· Tower of Faith- Bring an end to your wait for exciting thrills and chills at this slide. This tunnel is filled with mysterious twists and turns, waiting to catapult you into an amazing and incredible water coaster that pushes you further.
· Twist Turvy- The breathtaking curves and hair-raising drops make this water coaster both enthralling and exciting.
· The Pirate Bay- The Pirates Bay is a kids land. You can find mini slides and some water toys sloping up and down into the kid's splash pool, enhancing the wet experience, filling it with slight thunder and awe.
· Flipper Dipper- The Flipper dipper is an ideal couple ride. All you need to do is to close your eyes and hop on the tube, float with your partner and experience the incredible curvaceous ride.
· Adult Splash Pool- Situated close to palm trees, this pool adds up to the excitement and thrilling wave of your heart. This ride offers an intoxicating experience.
Places to visit near Marvel Water Park
Marvel Water Park is located at an astonishing and prime location, and there are many exciting places to visit near the park. Once you have taken the pleasure of an exclusive experience at the Marvel water park, you can continue your day out and head on to some fantastic places mentioned below.
You can also visit some great hotels in the area where you can put up and then explore the region. There are many other exciting hotels and cafes in the area that you need to explore. Here is the list of sites that you need to visit:
· Goverdhan Sagar Lake- Goverdhan Sagar Lake is an astonishing lake located in the proximity. This lake is quite clean and well-maintained in comparison to other lakes in the city. If you wish to seek some peaceful moments, then visit the Goverdhan Sagar Lake to steal a few moments of solace. The lake is just 1.2 Km away from the water park.
· Lake Palace- Lake Palace is located on the banks of Lake Pichola serving as a gold mine of the history of the Mewar dynasty.
· Saheliyon ki Bari- The Garden of Maiden is a real example of the wonder of nature built for the Queen and her maidens.
· Sai Palace- Located in the Shikarbadi area, Sai Palace is an exclusive place to rejuvenate your senses in the lap of nature. The Sai Palace is 2.7 km away from the Marvel Water Park.
· Tibetan market- For your shopping spree visit this place, it has some fantastic stuff sold by the Tibetan people. Apart from clothes, handicrafts, carpets, and rugs are sold. This market functions only during the winter months; it is operative for 120 days. The market is about 5 km from the water park.
· Jiva Spa- Taj Lake Palace- For pampering your soul and experiencing a whole new way of relaxation head to this spa in the Taj Lake Palace. It will give an experience that will surely leave you rejuvenated.
· Lake Palace Restaurant- To live life king size visit Taj Restaurant that has grand chandeliers, imposing paintings, antique furniture, and luxury redefined. Continental, Western, and Italian delicacies. Importantly for the authentic meal of Rajasthan try Dal Bati.
If your family members wish to take blessings of God, you can visit many temples located in the 10 km distance of the Marvel water park namely Charbhuja Temple, Sheetla Mata Mandir, Pragati Ashram, Digambar Jain Mandir, Ram Temple, and Piplaj Mata Temple.
Interesting facts about Marvel Water Park
The Marvel Water Park extraordinarily boasts its theme décor.
The water rides at the Water Park are cleaned regularly offering a neat, clean, and hygienic experience.
Things to keep in mind while visiting Marvel Water Park
It is always better to carry your swimwear as you cannot trust the hygiene of the outfit every time.
Since it is a park, don't forget to bring a change of clothes.
A shower cap can also be brought, in case of need.
Please plan your day as you can take around 5 hours to explore and enjoy your time in the Marvel Water Park.
Udaipur is a land of exclusive beauty and history that cannot be viewed and felt in the day time. It is advisable to take a few days off and take pleasure in the City of Lakes. You can opt for one of All-inclusive Udaipur tour packages offered at Udaipur Tourism. By choosing one of these packages, you can explore the city in a fun-filled manner, which will be dotted with an enviable list of facilities expected by the prospective traveler. To seek more information about these packages, you can contact us by filling the Contact Us form.
Location Map for Marvel Water Park Udaipur