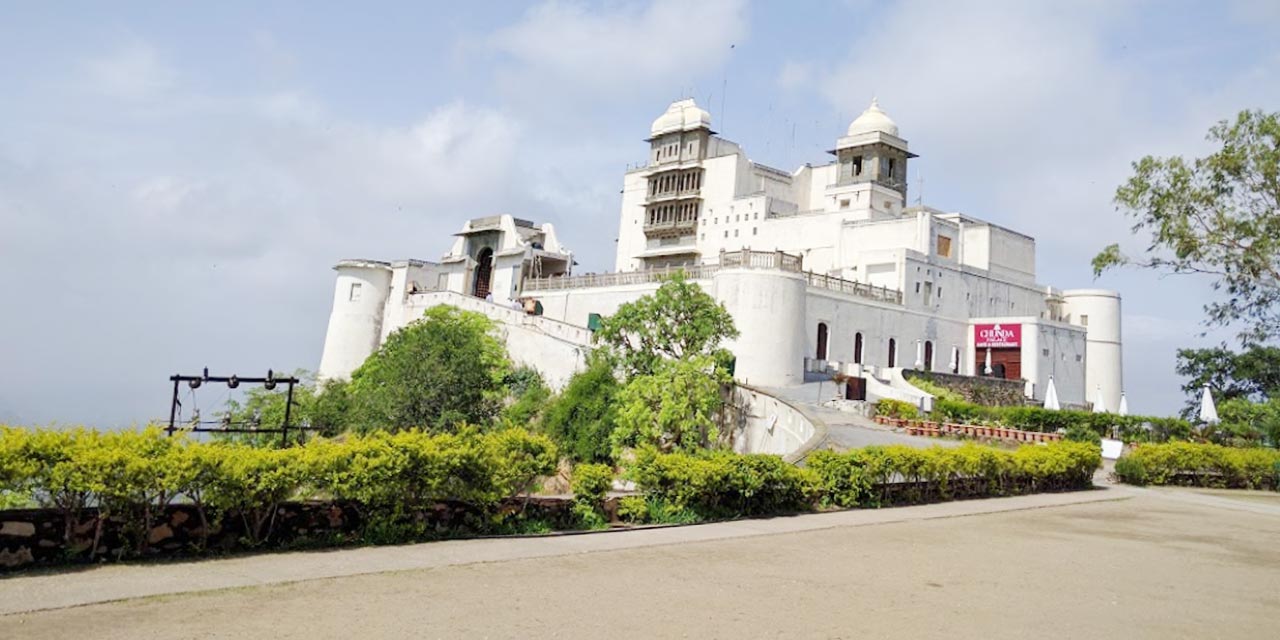 Monsoon Palace / Sajjangarh Fort Udaipur Entry Fee
110 per person for Indians
300 per person for Foreigner
55 for 2 wheeler
300 for 4 wheeler
Monsoon Palace / Sajjangarh Fort Udaipur Phone
---
Rating:
| 4/5 stars
Based on total 65 reviews
Monsoon Palace / Sajjangarh Fort Udaipur Address: Kodiyat, Udaipur, Rajasthan, 313001, India
---
Thomas Fuller rightly said that 'A memory is the treasure dwelling of the mind wherein the monuments thereof are kept and preserved for life.' Palaces are the unfading marks in history. You cannot ignore the fact that every Palace has an exciting story to tell whether it is about its residents or people associated with it. One such story comes from the Sajjangarh Palace, also known as Monsoon Palace.
Coming from the ravages of time, Sajjangarh Fort is a magnificent and stunning palace built on the Aravalli hilltop. Built-in 1884, the Sajjangarh Palace is a palatial residence of Maharana Sajjan Singh. The Palace overlooks a breathtaking view of the Lake Fateh Sagar, City Palace, and the King's ancestral home, Chittorgarh.
The palaces, the history, and culture of the Mewar Kingdom are spread all over Udaipur, which should be explored thoroughly. We at Udaipur Tourism, a division of Holidays DNA, make it possible for you to explore every marvelous aspect of the city of lakes in the best possible manner.
Architecture of Sajjangarh Fort
Located on a Bansdara peak of Aravalli hill (3100 ft above sea level), Sajjangarh Palace is built with stunning white marble. As per the plan laid out by Maharana Sajjan Singh, the Palace was supposed to be nine stories, but due to the premature death of the King, the planned was shelved. However, it was later completed by Maharana Fateh Singh, his successor. The Royal family used the Sajjangarh Palace as a hunting lodge as well as to watch the monsoon clouds which brought the name of Monsoon Palace to the Sajjangarh Palace.
The foundation of the Fort is laid on marble pillars which have exclusive motifs of flowers and leaves carved all over it. The palace walls are plastered with lime mortar. There is a vast central court with a stunning staircase and several quarters and rooms. The Fort has high turrets and guards monitoring each of the towers. The domes, fountains, and jharokhas all around the palaces are the exquisite marvels of Rajasthani architecture.
Image Gallery of Monsoon Palace / Sajjangarh Palace Udaipur
History of Sajjangarh Fort
The construction of the Monsoon Palace/ Sajjangarh Fort & Palace began under the command of Maharana Sajjan Singh. Maharana Sajjan Singh was an influential thinker, developer and a short-lived ruler of Mewar dynasty. Even though he ruled for ten years only (from 1874-1884), he made an extraordinary contribution in preserving and establishing the glory and culture of the Udaipur City. His civil works included construction of dams and roads, water supply and infrastructural developments.
Under the reign of Maharana Sajjan Singh, in the 19th century, Udaipur has been crowned with the second municipality of India. In November 1881 on the occasion of Queen Victoria's crowning, the Maharana was awarded the title "Grand Commander of the Star of India" by Lord Ripon.
How to reach Sajjangarh Palace
The City of Lakes, Udaipur, is very well connected. There is an airport, railway station and a national highway connecting it to all nearby cities and states. You can reach Sajjangarh Palace via multiple ways mentioned below.
Airways- Dapok airport of Udaipur is about 27.4 Km away and can be easily reached by domestic flights from Mumbai, Kolkata, Delhi, Jaipur, Jodhpur, and Ahmedabad.
Railways- You can take a direct train to Udaipur from various places such as Mumbai, Agra, Delhi, Jaipur, Jodhpur, Bikaner, Chennai, and Ahmedabad. Udaipur railway station is 7.9 Km from Sajjangarh Fort.
Roadways- The Sajjangarh Palace is 10km away from central Udaipur City. You can take a local cab, auto-rickshaw or a bus run by the government to reach the destination.
For commuting to and from the Palace, it is advisable to hire a private taxi service. We at Udaipur Tourism have listed the top car rental companies in Udaipur offering a safe and comfortable ride to every sightseeing place in Udaipur.
Entry fees and timings of Sajjangarh Fort
The Entry Fee of Monsoon Palace is Rs. 110 for Indians and Rs. 300 for foreigners.
The Timings to visit Monsoon Palace is from 9 am to 5 pm. It is open on all days of the week.
Things to do at Sajjangarh Palace
1. If you are history enthusiasts, you can move along and watch around. You can explore the hilly region and have a taste of local Udaipur delights.
2. If you wish to learn about popular folk literature, then the Chittorgarh Palace is the perfect place.
3. There is a wildlife sanctuary nearby; you can take your kids and enjoy some family time.
4. Shopping for local souvenirs is a must in Udaipur region of Rajasthan.
Places to visit near Sajjangarh Palace
Some of the surprising places to visit nearby are Lake Fateh Sagar, Lake Palace, City Palace, Lake Pichola, and SajjanGarh Biological Park.
Interesting facts about Sajjangarh Fort
1. The sunset point is one of the most attractive sights of the Palace. During the sunset, the Palace illuminates the glow of golden orange. So never miss out on this marvelous view.
2. The Palace has been featured in a James Bond movie named Octopussy as the abode of Afghan Prince.
3. The Palace is decked up every night with fairy lights, giving an ethereal view.
Things to keep in mind while visiting Sajjangarh Palace
1. Don't forget to carry your camera to capture the stunning images coming live in front of your eyes. The cost of bringing a video camera is Rs.20 per person.
2. Please make sure you wear comfy shoes and cotton clothes as the city has a hot and humid weather and it will take around an hour to explore every nook and corner of the Palace.
Never miss out on the finger-licking delicious food, go on shopping sprees in Hathi Pol market, visit nearby temples, boating tours. Are you wondering where and how you will find and reach all these places? Well no worries, you can choose one of our All-inclusive Udaipur tour packages. The packages are personalized with the best services and facilities to ensure a comfortable Udaipur tour. If you need more information about the same you can reach us by filling the Contact Us form.
Location Map for Monsoon Palace / Sajjangarh Fort & Palace Udaipur